Choosing between running or riding on a stationary bicycle as a cardiovascular exercise is a matter of health and habit. There is much to be said about the freedom to run outside, although it is hard to argue with the convenience of pedaling away in front of the TV. Either way, both are popular calorie burners.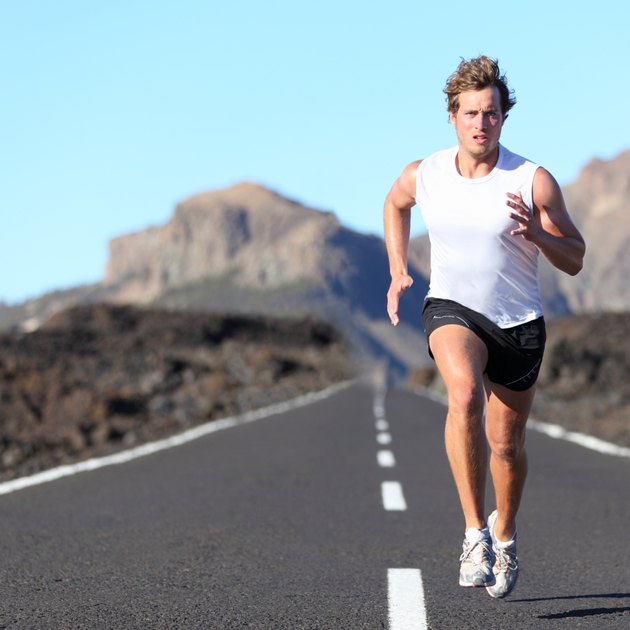 Benefits
Both stationary bikes and running have distinctive benefits as cardiovascular training techniques. Stationary bikes allow you to train at home, eliminating the risk of bad weather interrupting a workout. Stationary bikes also have minimal impact on the knees and ankles. Running is one of the most convenient ways to exercise, requiring little more than a pair of running shoes and some space to run. According to the Calorie Calculator at Healthdiscovery.net, working out on a stationary bike and running result in a similar amount of calories burned. Over the course of 30 minutes, a 200 lb. man will burn 336 calories during a moderate ride on a stationary bike and 504 calories during a more intense workout. Under the same circumstances, running at 5 mph will burn 384 calories, while running at 6.7 mph will burn 528 calories.
Considerations
Although research shows that people can run regularly into their senior years and avoid injury if they use proper technique, running is a higher impact cardiovascular exercise that can lead to or exacerbate injuries. Patellofemoral pain syndrome, or "runner's knee," is the most common overuse injury among runners, causing tenderness and pain around the patella. Stationary bikes are often preferred by people with pre-existing knee pain because they provide almost no shock on the knees. They are also good for people with balance issues who cannot ride a regular bike but want the cardiovascular benefit of cycling. People with pulmonary issues or those at risk for a heart attack should keep in mind that working out by running or by using a stationary bike increases the heart rate.
Types
Running is running, but stationary bikes come in a few varieties. There are standard stationary bikes, recumbent bikes, bikes where the rider stands nearly upright and cycling-style bikes made for indoor classes. Stationary bikes are sometimes built with handle bars attached to the peddles to exercise the upper body. There are also bicycle rollers, which allow a standard bicycle to be ridden indoors like a stationary bike.
Potential
The function of training on either a recumbent bike or by running is better health. Consistent use of a recumbent bike or running can lead to losing weight, gaining muscle tone, lower blood pressure, better circulation, stronger bones, greater energy and a healthier appearance.
Warning
If you have been inactive or have health problems, consult a doctor before beginning a training regimen involving running or a stationary bike.