Molluscum contagiosum is a skin infection that creates small wart-like growths on the skin. The disease is common in young children because they are more likely to come into contact with others with this easily transmissible disease, but adults as well as people with weakened immune systems can also be at risk. If you think your child might have molluscum contagiosum, contact your health care provider.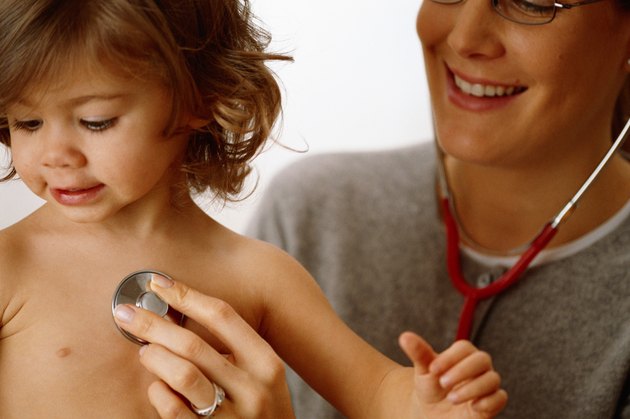 Virus
Unlike common warts, the virus that causes molluscum contagiosum is not caused by a member of the human papillomavirus family. Instead, the virus that causes this disease is a member of the pox virus family, related to chickenpox virus. It is generally considered a benign virus and infection, causing only a temporary, treatable condition with a low risk of complications.
Symptoms
According to Medline Plus, molluscum contagiosum appears as small pink or flesh-colored bumps between two to five millimeters in diameter with an indentation in the center. They may also be shiny, red or inflamed. They tend to cluster and may appear on both sides of two touching areas of skin, such as under the armpit, behind the knee or at the creases in the groin area. The bumps are usually painless.
Transmission
Molluscum is transmitted through skin-to-skin contact or from touching an object that someone with the virus has touched, explains the American Academy of Dermatology. In children, this often occurs in day care or school settings when an infected child touches toys, towels or surfaces which are then touched by other children. Gymnastic mats and swimming pool toys are other sources of catching this virus. A child with molluscum contagiosum can self-transmit the virus if they touch an infected area and then touch another area of the body. The disease spreads more rapidly in warm, humid conditions. Keep the lesions covered by clothing or bandaids if your child is spending time with others.
Treatment
Treatment for molluscum contagiosum is not usually necessary, since the body's immune system will clear the virus on its own. According to Medline Plus, individual lesions disappear within two to three months, and the disappearance of all lesions is generally complete by six to eighteen months after the initial infection. If parents don't wish to wait for the papules to disappear on their own, the bumps can be frozen off using liquid nitrogen, surgically removed with a scalpel, removed by electrical cauterization or dissolved using acids. Creams and oral medication may also be used to treat the infection.
Prevention
Parents should teach their children good hygiene to avoid this and other contagious skin conditions, explains the Centers for Disease Control and Prevention. Proper hand washing, using hot water and soap for 10 to 15 seconds, is the primary method of defense against catching molluscum contagiosum. Children should also avoid physical contact with other infected children and with items handled by infected individuals.