Liver spots, also known as age spots or solar lentigines, appear as flat, discolored spots on the face, hands, arms, and other areas of the body most frequently exposed to the sun. Liver spots occur most often in adults older than 40 years, according to MayoClinic.com, but they can affect individuals of any age. For cosmetic purposes, liver spots can be lightened or removed, although they are not considered a serious medical condition. If surgical or chemical lightening is not an option, you can slowly and gently get rid of liver spots on your face using natural ingredients.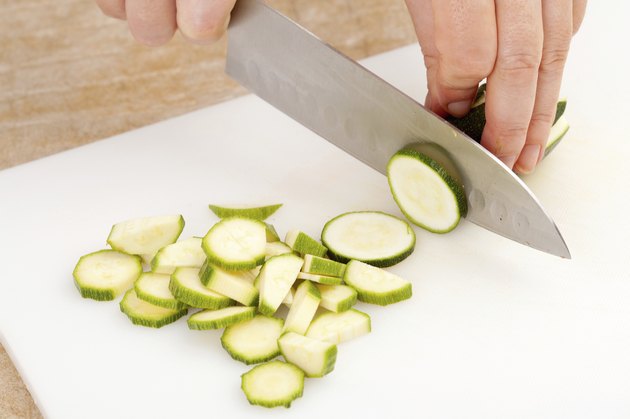 Step 1
Peel the potato, cut into 1 inch pieces, and cube or slice the cucumber. Place the potato and cucumber pieces into a blender or food processor with the lemon juice and yogurt.
Step 2
Turn the blender on medium speed. Process the ingredients until you achieve a thick, smooth, paste-like consistency, which usually takes three or four minutes.
Step 3
Place a large bowl under a fine-mesh strainer. Pour the mixture into the strainer and press through with the back of a spoon to remove any remaining lumps.
Step 4
Lie down with a towel under your head and neck to catch drips, and apply the mixture to the liver spots on your face. According to Stephanie Tourles in her book "Herbal Remedies for a Lifetime of Healthy Skin," applying the mixture to your entire face not only lightens liver spots, it also improves your complexion.
Step 5
Cover your face with a hot, damp towel after application, leaving the area around your nose and mouth uncovered, and allow the mixture to remain for 15 to 20 minutes.
Step 6
Rinse your face thoroughly with warm water, pat dry, and apply a gentle moisturizer to prevent dryness. Repeat once or twice weekly until liver spots become unnoticeable. This can take several weeks or even months, depending on severity.
Things You'll Need
1 small potato

1/2 small cucumber

Blender or food processor

2 tbsp. fresh lemon juice

1 tbsp. plain yogurt

Large bowl

Fine-mesh strainer

Towels

Gentle moisturizer
Tip
If you cannot use the liver spot treatment immediately, it will keep in the refrigerator for up to 24 hours in an airtight container. In her book "Skin Saver Remedies," Juta Stepanovs recommends several fruits with bleaching effects to help get rid of liver spots on your face. If you don't have a potato or cucumber on hand, try using an equal amount of green grapes, strawberries, cranberries or apricots instead.
Warning
Do not use on sunburned, inflamed or very sensitive skin.