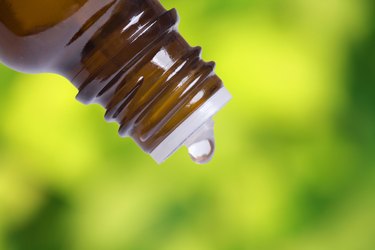 Vitamin C, also known as ascorbic acid, is an antioxidant that is naturally found in citrus fruits and certain vegetables. According to Valerie Monroe, beauty editor of "O, the Oprah magazine," antioxidant serums can brighten your complexion and help moisturizers absorb better. Because skin care companies found that topical vitamin C may have anti-aging effects, they created anti-aging skin serums for application to the face and neck. You can also make your own vitamin C serum, which is easy to apply.
Step 1
Select and purchase a vitamin C serum. According to Christine Dreher, a nutritionist, herbalist and author of "The Cleanse Cookbook," you should choose a serum with at least 10 percent concentration of L-ascorbic acid, also known as vitamin C.
Step 2
Wash your face with a clean wash cloth, a mild cleanser and warm water. Leave skin damp.
Step 3
Apply the vitamin C serum to your face and neck with your fingertips. Gently massage the serum into the skin. Wait three to five minutes for it to dry.
Step 4
Apply your normal moisturizer, preferably one that contains sunscreen. According to a study led by D. Darr at the North Carolina Biotechnology Center, antioxidant serums applied prior to sunscreen can improve the effectiveness of sunscreen against skin damage.
Step 5
Repeat the process twice a day.
Tip
If you have sensitive skin, you might want to only use vitamin C serum once per day. When vitamin C serum turns brown, it has spoiled and should be discarded.
Warning
If your skin becomes irritated, discontinue use and consult a dermatologist or other physician.