Cetaphil Moisturizing Cream is made by Galderma, an international company founded in1981 as a joint venture between L'Oréal and Nestlé to serve skin-care physicians and dermatology patients. Galderma's products focus on care for acne, psoriasis and steroid-responsive dermatoses, rosacea and pigmentary disorders. Doubts about Cetaphil have been raised by Alexia Brue, a widely published arts and culture journalist, and Melissa Gelula, psychotherapist and author for Well+GoodNYC.com. They contend Cetaphil contains toxins and no skin-health ingredients.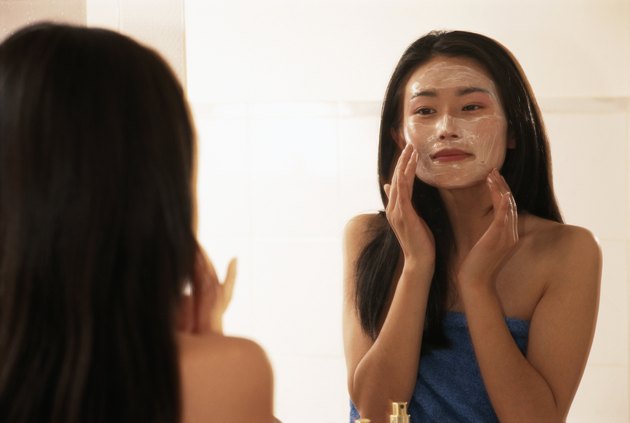 Skin Penetration
Brue and Gelula note that propylene glycol and sodium laureth, also called sodium laurel sulfate, are two of the ingredients in Cetaphil Moisturizing Cream. These chemicals are said to function as penetration enhancers in the cream. Propylene glycol and sodium laurel sulfate are common ingredients in many hygiene and cosmetic products. Health concerns center around the ability of both chemicals to alter skin structure. This allows other substances in the cream to penetrate the skin and reach your bloodstream. They also said they are skin irritants and may cause allergic reactions.
Hormone Interference
Parabens in three forms--methyl-, ethyl-, propyl and butyl-parabens--are most commonly used as preservatives in food and cosmetics, according to the specialists at Well+GoodNYC.com. They inhibit growth of mold, yeast and bacteria. They are also common in antibacterial soaps, toothpastes and hygiene products. They recommend you avoid personal care products for children that contain parabens. Brue and Gelula's research suggests that parabens may alter your hormone levels and increase your risk for certain cancers. Hormone changes may also impair your fertility, alter fetal development or growth of a young child. Skin irritation, rashes or allergic skin reactions may also occur.
Missing Ingredients
According to Nicole Yih, assistant spa director at Mandarin Oriental New York, as cited by Brue and Gelula, you may face another significant danger when you use Cetaphil Moisturizing Cream because of what it lacks. Considering the possible toxic properties of some ingredients, Yih sees a hazard in that the product contains no anti-oxidants to counteract free radicals, the products of environmental and internal stresses, in your skin. Also lacking are omega-oil-rich plant seed extracts, also said to promote skin health.
Disclaimer
According to a review of data published by the U.S. Agency for Toxic Substances and Disease Registry, the U.S. Centers for Disease Control and Prevention and the Australian Government Department of Health and Aging, the three ingredients that Brue and Gelula said are toxic in Cetaphil Moisturizing Cream are scientifically documented as safe for food and cosmetic use at the levels approved.