Shingles strikes 1 million Americans each year, according to the Centers for Disease Control and Prevention, with most cases reported among individuals older than 50. However, younger people--even infants--can also develop shingles, leaving patients wondering whether they have shingles or a similar disease, such as chicken pox, herpes or smallpox. While laboratory tests provide definitive diagnosis, doctors can usually distinguish between shingles and diseases, like shingles, on the basis of history and physical findings.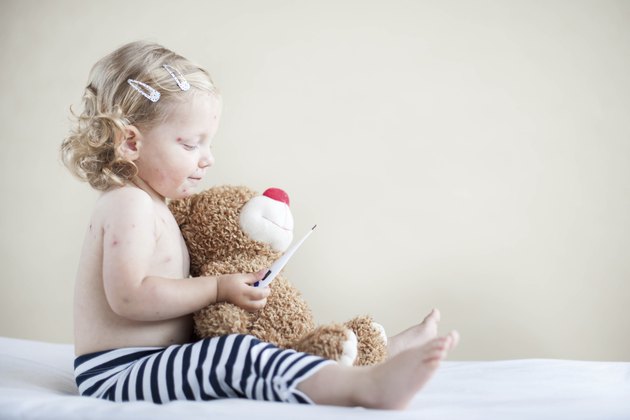 Chicken Pox
Chicken pox and shingles share the same etiology--infection with the varicella-zoster virus. Chicken pox results from the initial infection, when the virus spreads through the bloodstream. Shingles results when the virus awakens within the roots of spinal and sometimes cranial nerves. Writing in the 2008 edition of "Fitzpatrick's Dermatology in General Medicine," Stephen E. Straus, of the National Institutes of Health, describes the subtle differences between the rash associated with chicken pox and the rash associated with shingles. Although both produce 2mm to 3mm blisters on a base of red, raised skin, chicken pox blisters tend to develop as isolated lesions all over the body, even appearing on the hands, feet and genitals. Shingles, Straus writes, produces clusters of lesions that appear on just one side of the body, within a relatively limited area. In addition, notes Straus, shingles almost never produces lesions below the knees or the elbows.
Herpes
Herpes and shingles produce virtually identical skin blisters; however, Lawrence Corey, M.D., University of Washington professor, writes in the 2008 edition of "Harrison's Principles of Internal Medicine," that blisters due to herpes simplex virus infections average two to three times larger. They also tend to affect different areas. The name "shingles" comes from the Latin word "cingulum" which means girdle or belt, describing the disease's preference for the back and trunk. Herpes, by contrast, usually strikes the mouth or genitals. In addition, says Corey, herpes usually recurs, especially during the first year that the disease is acquired. Shingles almost never recurs, according to the National Institute of Neurological Disorders and Stroke, except in people with immune system problems, such as AIDS.
Smallpox
Smallpox has emerged as an agent of interest in biological warfare, because it results in 10 to 30 percent mortality, say H. Clifford Lane, M.D., and Anthony S. Fauci, M.D., of the National Institutes of Health. Death, explain Lane and Fauci, results not from the skin rash, but from severe systemic symptoms that accompany it. While shingles, chicken pox and herpes can also produce systemic symptoms, they are characteristically mild and rarely result in death. Even the rash is different, according to Lane and Fauci. Like chicken pox, smallpox typically affects the entire body. However, smallpox blisters begin on the head, arms and legs and moves inward to the trunk, while chicken pox follows the opposite pattern. Unlike shingles, chicken pox and herpes, which all produce crops of lesions that exhibit different stages of healing, smallpox blisters start healing at the same time, giving the rash a uniform appearance.
Is This an Emergency?
If you are experiencing serious medical symptoms, seek emergency treatment immediately.