Shingles strikes one million Americans each year, according to the Centers for Disease Control and Prevention. Although shingles is best known for its characteristic one-sided, blistering skin rash, occasionally it produces no skin manifestations at all, a condition doctors call "zoster sine herpete." People with zoster sine herpete develop all of the characteristic symptoms of shingles except the rash.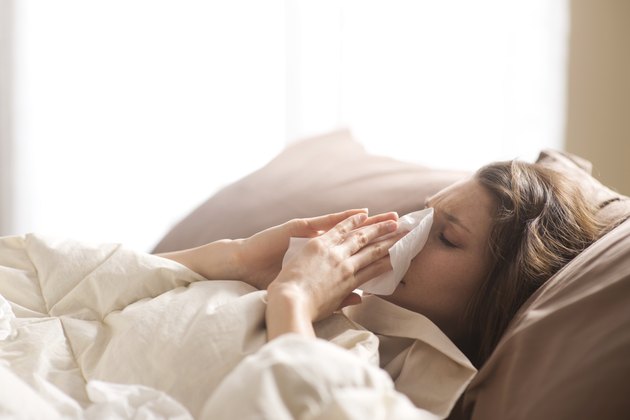 Flu-Like Illness
Some people with zoster sine herpete report the gradual onset of flu-like illness on or shortly before the time that lesions would normally erupt. Common complaints include fever—usually mild, headache, muscle or body aches, poor appetite and generalized malaise, which last for seven to ten days. Although people often attribute the symptoms to a mild case of the flu or a cold, in the case of shingles, respiratory symptoms of flu or colds, such as cough or runny nose, do not develop with zoster sine herpete.
Pain and Sensory Alterations
Pain represents the dominant symptom of shingles and it occurs even in the absence of a rash. People with shingles describe the pain as severe, deep, boring, stabbing or electric pain. It typically affects just one side of the body and localizes to the skin areas supplied by one or sometimes up to three spinal nerves. Some people with zoster sine herpete also report itching, tingling, prickling, numbness, soreness or pain in response to stimuli that would not normally provoke pain, such as the touch of clothing.
Movement Problems
Zoster sine hrpete, like classical shingles, can affect the spinal or cranial nerves that supply motor function to the muscles of the body and face. A common presentation is weakness in one arm or leg or one side of the abdomen or the diaphragm muscles that control breathing. When the cranial nerves become involved, the result is Ramsay-Hunt syndrome. Ramsay-Hunt syndrome causes facial muscle palsies that often result in marked asymmetry. People lose the ability to close or open one eye completely and one side of the mouth falls slack. Although zoster causes all of the same symptoms, notes Straus, patients with zoster sine herpete face additional diagnostic tests, delayed diagnosis and, sometimes, misguided interventions due to the unusual presentation of their disease.