Earwax, also called cerumen, naturally occurs in the outer one third of the ear canal. It aids the ear in protecting and lubricating the ear canal and offers antibacterial properties as well. When earwax, normally self-cleaning, becomes impacted, a variety of symptoms may follow, including earache, partial hearing loss and ringing in the ear.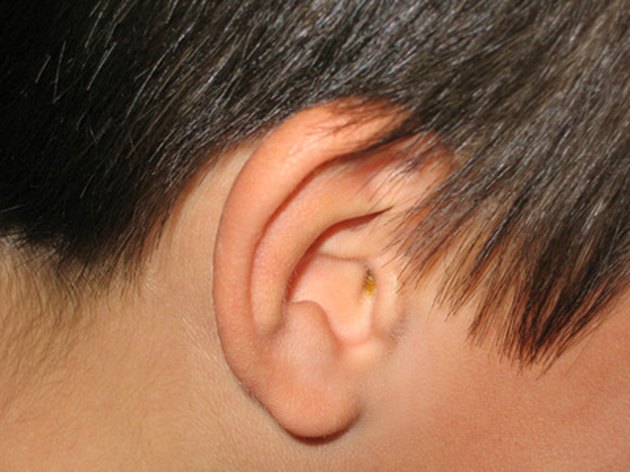 Individuals should approach earwax removal cautiously to avoid side effects like damage to the inner ear skin, ear drum perforation and infection of the ear drum.
Damage to the Inner Ear Skin
Damage to the skin of the inner ear may occur as a result of ear wax cleaning. Ear irrigation, one method of ear wax removal that is also called ear syringing, can cause otitis externa, which is an inflammation of the skin in the outer ear and ear canal. Wax removal with suction, probes or forceps, while effective, may also impact the ear canal skin in a traumatic way. The American Academy of Otolaryngology-Head and Neck Surgery reports ear candling, a method of removing wax with melting, can cause burns to the skin of the ear canal.
Ear Drum Perforation
Ear candling also poses additional danger to the ear, presenting the possibility of ear drum perforation as a side effect of ear wax cleaning. The U.S. Food and Drug Administration has received reports of ear drum perforation from this method of removal and does not recommend its use. The ear drum can also be perforated through use of the ear irrigation technique.
Infection of Ear Drum
The ear drum becomes infected in a condition called Myringitis bullosa when bacteria or viruses find their way into the ear canal. The "British Medical Journal" reports that ear irrigation used to clean ear wax may cause an infection in the ear, although no reports exist to determine the frequency of such an infection.
Is This an Emergency?
If you are experiencing serious medical symptoms, seek emergency treatment immediately.