Ranitidine 150 mg tablets, the generic product of Zantac 150, is an over-the-counter medication used for the relief of heartburn and for the treatment of stomach ulcers. It may also be used for gastroesophageal reflux disease, or GERD, and as a part of the regimen for the treatment of H. pylori infection. Ranitidine is a histamine H2 antagonist which blocks histamine from binding to H2 receptors in the cells of the stomach. Many side effects may occur with the use of this drug.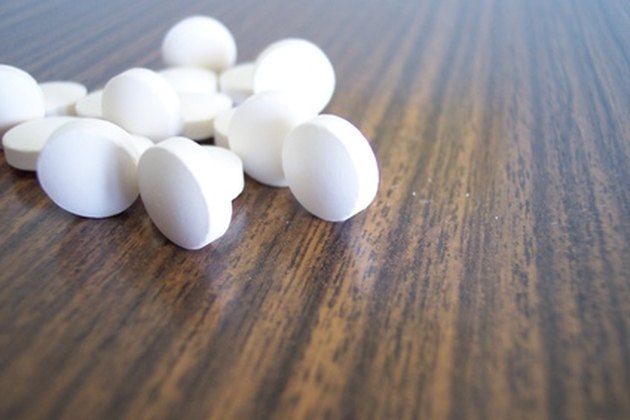 Low Blood Platelet Count
Ranitidine may lead to a low blood platelet count. Platelets are blood cells involved in blood clotting. The patient should inform a physician if he experiences signs of low platelets in the blood, such as increase bruising, prolonged bleeding and blood from the gums. According to "Pharmacotherapy: A Pathophysiologic Approach," low platelet count is the most common side effect on the blood, but reverses when the medication is stopped.
Effects on the Heart
Ranitidine may cause changes in the way the heart works. Bradycardia, or a low heart rate, may occur, reports the "Drug Information Handbook." Low blood pressure, known as hypotension, may also be present in users of this medication. These side effects are due to the blockage of H2 receptors found on the heart. They may lead to heart block and cardiac arrest. If the patient experiences chest pain and shortness of breath, he should receive medical care immediately.
Mental Status Changes
Mental status changes may occur with the use of ranitidine 150 mg. These changes include confusion, hallucinations and agitation. According to "Basic and Clinical Pharmacology," the medication should be used with caution in elderly patients and those who have liver or kidney dysfunction.
Nausea and Vomiting
Nausea and vomiting are common gastrointestinal side effects seen with the use of ranitidine. Stomach pain has also been noted. Chewing gum may help avoid these side effects. The patient may also try taking the medication with a meal as food does not affect the absorption of the drug into the body.
Headache and Dizziness
Headaches may occur in users of ranitidine. Drugs.com states that this side effect may be severe. The patient should see a decrease in this effect over time but may use a pain killer to help. Dizziness and drowsiness may also be seen in users of this drug. The patient should be careful when driving or using other heavy machinery. These adverse reactions diminish with time, as well.
Constipation or Diarrhea
Ranitidine may produce constipation in some patients, while producing diarrhea in others. Over-the-counter medications may be able to help with side effects, as long as the patient consults a health care professional before use. If either of these adverse effects continues or worsens, the patient should stop the medication and seek medical attention.