A small percentage of people experience allergic reactions from exposure to mushrooms and other fungi. Childhood mushroom allergies may fade within a few years, but allergies to mushroom or mold exposure that develop in adulthood usually continue. Symptoms can arise from eating mushrooms or inhaling reproductive fungal spores. The itching and respiratory problems of allergic rhinitis can be treated with medications, but food allergies must be addressed through dietary management.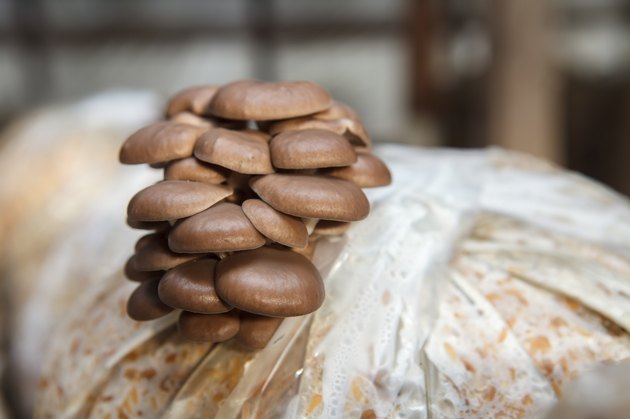 Types
Individuals may first notice sensitivity after getting sick from eating or handling mushrooms. The Asthma and Allergy Foundation of America (AAFA) reports that food allergies can cause respiratory, digestive and skin health symptoms. People with such mushroom allergies may also be allergic to other fungal forms, such as molds or yeast. Ingesting foods that carry molds, such as cheeses or grapes, may trigger allergy symptoms. The National Institutes of Health (NIH) report that inhaling airborne spores from molds or mushrooms can also make some patients ill.
Identification
Mushroom allergies to inhaled spores will produce the hay fever effects of allergic rhinitis, either seasonally or perennially when mold counts are high. The AAFA notes that food-induced mushroom allergies are less common. These episodes add digestive and, in rare cases, potentially fatal anaphylactic symptoms to respiratory upset.
Features
Upper respiratory responses to inhaled mushroom allergens include sneezing, coughing, runny nose and sinus congestion. The University of Maryland (UM) Medical Center reports that itching of the eyes, ears, mouth and throat can accompany these allergic rhinitis health symptoms. The same problems may indicate food allergies from eating mushrooms or moldy foods. Additional symptoms from ingesting mushrooms include nausea, stomach pain, vomiting and diarrhea, according to the UM Medical Center.
Warning
In some instances of food-borne mold exposure, the entire body has an allergic reaction. Shortly after eating mushrooms or molds, the NIH reports, blood pressure may drop sharply. Inflamed airways may swell and decrease oxygen intake. These anaphylactic conditions may produce an abnormal pulse, trouble breathing, light-headedness and fainting. Anaphylaxis can swiftly escalate toward respiratory and cardiovascular failure, and warrants paramedic assistance at once.
Prevention
To reduce the airborne sources of mold exposure, the UM Medical Center recommends keeping indoor humidity below 50 percent. Respiratory health symptoms can be prevented with medications such as nasal steroids or cromolyn sodium. The Cleveland Clinic suggests monitoring diets to eliminate mushrooms and foods that are most likely to sustain molds. These include sour cream, smoked fish and dried fruits.