Whether the cause is cystic acne, a burn or a cut, scarring is the method your body uses to heal a wound. While most scars and dark spots will fade over time, a deep cut may result in a pretty big scar.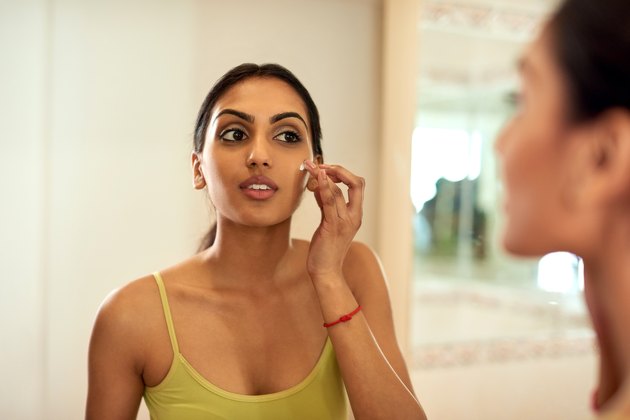 If you feel there may be something abnormal or extreme about your scarring, consult a dermatologist before you explore at-home care or other treatments.
What Are Scars and Dark Spots?
Scars occur and heal in a similar way no matter their cause, according to the American Academy of Dermatology (AAD). When the skin gets injured, your body works to repair the damage. The depth of the injury determines whether or not you're left with a scar or a darker-than-normal spot in the aftermath.
When a lesion goes deeper than the first layer of skin, your body will form thicker tissue, which ultimately becomes a scar, according to the AAD. The depth of the cut (or pimple, in some cases) also determines how high the scar rises above your skin.
How To Treat Scarring or Dark Spots
There's usually no medical reason to treat a scar or a dark spot, and plenty of people with scarring embrace the skin they're in. That said, if you choose to seek treatment, there are several routes you can pursue to minimize the appearance of scars or dark spots.
A good place to start is with home skin care, according to the Mayo Clinic. Many over-the-counter products can improve the appearance of mild scarring and darkening. If your skin concerns are more severe, however, your dermatologist can prescribe other topical options.
Soft tissue fillers are another commonly used option, according to the Mayo Clinic. This procedure involves an injection of collagen or fat under the skin in order to fill out indented scars, ultimately making them less noticeable. However, the results of this treatment don't last forever and the procedure needs to be repeated.
Your dermatologist may also recommend a chemical peel, which involves applying a high-potency acid to the skin, causing the top layer to shed (like a sunburn). Typically, several peels are necessary in order for scars or dark spots to be completely eliminated.
Laser resurfacing is another procedure that you may want to consider, according to the Mayo Clinic. This is another treatment that your derm may suggest and involves using a laser to improve the appearance of the skin.