A burning sensation accompanied by chest pain can be a symptom of many diseases or conditions. Some may be related to the heart, and others may be caused by the digestive system or neurological responses within the chest cavity. Treatment for burning chest pain depends on the cause and can range from medication control to major surgical procedures.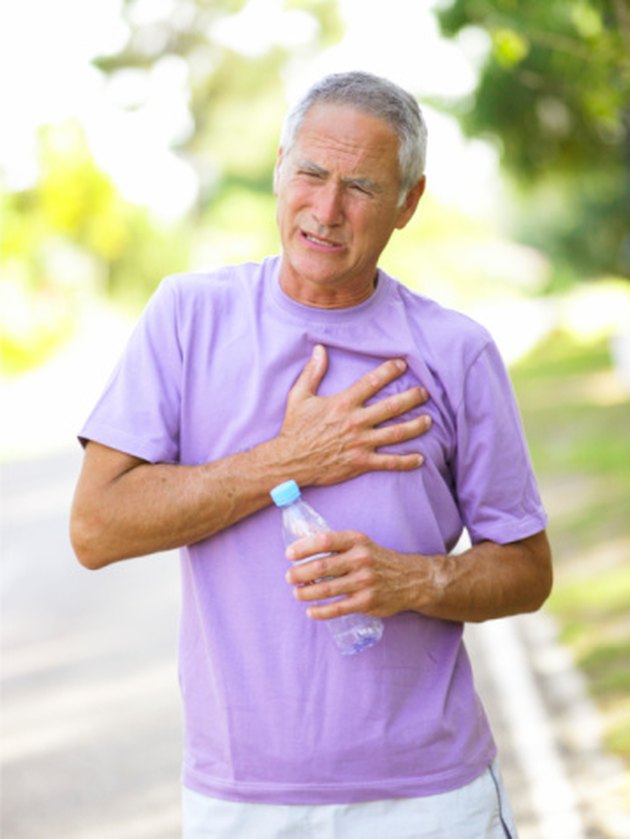 Angina
Angina is chest pain caused when a diseased vessel in the heart is unable to deliver enough oxygen-rich blood to the heart. The pain is described as burning or squeezing in the chest. It is most often a symptom of coronary artery disease, or CAD, says the Texas Heart Institute. Angina most often appears in men after age 30. In women, angina typically occurs later in life and stems from CAD and from other causes such as anemia, an overactive thyroid and aortic valve narrowing.
Treatment options for angina include medications, such as nitroglycerin, aspirin, beta-blockers and calcium channel blockers; revascularization procedures, such as balloon angioplasty; and lifestyle changes to include controlling high blood pressure and weight, along with a physician-approved exercise routine.
Pulmonary Embolism
A pulmonary embolism, or PE, is a blockage in an artery in the lungs, most often caused by a blood clot from a vein in the leg or hip area, according to MedlinePlus, a publication of the National Institutes of Health. Other possible causes of a PE include tumor cells, air bubbles and clumps of parasites.
Possible symptoms of a PE include sharp or stabbing chest pain, a burning or heavy sensation in the chest, shortness of breath, a cough, clammy skin and dizziness. Diagnostic testing to confirm the presence of a PE may include a chest X-ray, pulmonary angiogram and magnetic resonance imaging, or MRI, of the chest. A doppler ultrasound of an extremity or venography of the legs may be used to confirm the location of the blood clot.
Treatment usually includes hospitalization for anticoagulation therapy to dissolve the clot. The outlook depends on the cause and location of the blood clot or blockage.
Gastroesophageal Reflux Disease and Heartburn
Gastroesophageal reflux disease, or GERD, is a condition in which the lower esophageal sphincter allows the stomach contents to backflow into the esophagus causing acid reflux. Stomach acids in the contents may irritate the lining of the esophagus and cause symptoms of burning pain in the chest.
Treatment options for GERD and heartburn include over-the-counter antacids and prescription medications to decrease stomach acid production. For GERD symptoms that don't respond to conservative treatment, surgery such as fundoplication or endoscopic techniques may be an option, according to the National Digestive Diseases Information Clearinghouse.