Open heart surgery is any kind of operation in which the heart is exposed through an incision in the chest. The most common open heart surgery in the United States is coronary artery bypass grafting, or CABG. One of the most serious complications of open heart surgery is kidney, or renal, failure, in which the ability of the kidneys to get rid of toxic waste products and maintain a normal electrolyte balance is diminished. The incidence of this complication after open heart surgery is as high as 10 percent, according to Dr. R. Mehta in a January 2005 article in the "Journal of the American Society of Nephrology." There are several possible causes of kidney failure after open heart surgery.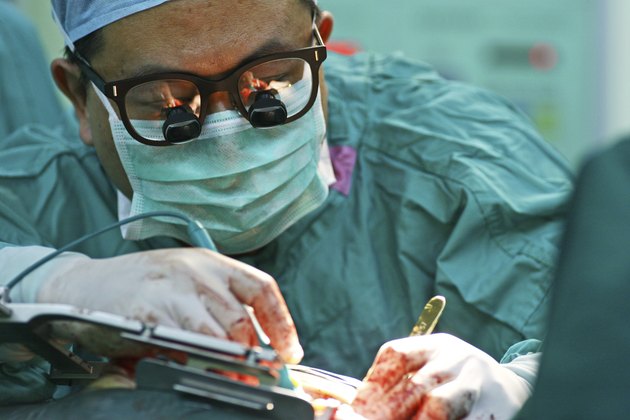 Inflammation
Open heart surgery, as do many surgeries, induces a generalized state of inflammation during and after surgery. Many heart surgeries require the use of a heart-lung machine, a machine that circulates blood while surgery is performed on the heart, which compounds the inflammatory response. Researchers at the Duke University Medical Center in a 2006 study reported evidence in an October 2006 "Heartwire" that this widespread inflammatory response can injure the kidneys, leading to kidney failure.
Decreased Blood Flow to Kidneys
Hypotension, or decreased blood pressure, is often seen during and after open heart surgery. According to the Duke University Medical Center researchers, this decrease in blood pressure decreases blood flow to the kidneys. Low kidney blood flow is a cause of acute renal failure and is one of the most common causes of kidney failure after open heart surgery.
Plaque Emboli
In patients undergoing open heart surgery, particularly a CABG, there is diffuse plaque buildup of the major arteries including the aorta, the main artery supplying blood to the body. During surgery, pieces of plaque, called emboli, can break off and travel to various organs, decreasing blood flow. A John Hopkins University School of Medicine study published in the April 2003 issue of "Annals of Thoracic Surgery" demonstrated that 48 percent of plaque emboli during open heart surgery lodged in the kidneys. Such plaque emboli in the kidneys may lead to kidney failure and a need for dialysis.
Genetic Predisposition
There is evidence that some people are genetically predisposed to developing renal failure after open heart surgery. One example is a study conducted by Popov and colleagues and published in the April 2009 issue of "European Journal of Cardio-thoracic Surgery" that demonstrated patients with a certain kind of gene complex, called eNOS 786C/T polymorphism, were at increased risk of developing acute renal failure after cardiac surgery.