When you shave, it is usually to appear put together or more attractive. If you are prone to ingrown hairs, this act of social grooming can cause embarrassment and discomfort. Ingrown hairs start when the tiny skin pouches that hold each hair are irritated by friction, blockage or shaving -- with bacteria usually along for the ride. Those skin pouches, called follicles, become inflamed and the hair gets stuck within the pouch rather than growing outward.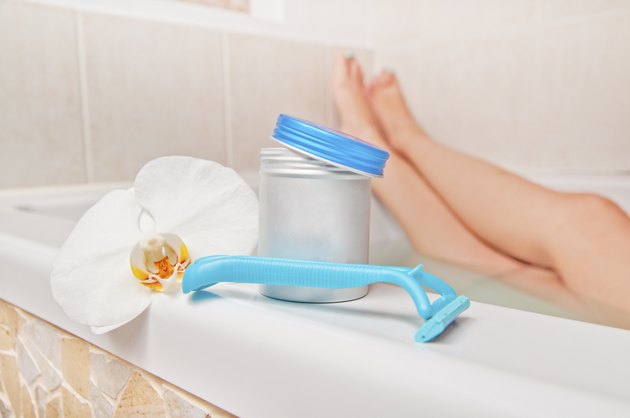 Warm, Red and Tender
The medical name for ingrown hairs is "folliculitis," which means inflammation of the follicle. The "flame" in inflammation is a good way to remember that inflammation causes the area to be warm, red and tender. The inflammation usually stays around the irritated follicle. However, it can spread if several follicles are affected. This is especially common in areas where shaving is done -- the face, legs and genital area. Ingrown hairs are more common in people with curly hair, because the cut hair can curl back into the follicle.
Itchiness and Pain
Itchiness may appear before, during or after the hallmark signs of inflammation. This may be especially apparent in areas where clothing causes friction, such as the genitals and upper thighs. Ingrown hairs can also be painful, especially if the area is irritated by friction and the follicles are infected.
Rash and Pus
Bacteria normally found on the skin can breed in areas irritated by ingrown hairs. When this happens, signs of infection are often present. The ingrown hairs may push against the skin, causing bumps. You may see the hair through the top layer of skin or may just feel the raised texture. The raised bumps may fill with pus as your body fights off the invading bacteria. Many people call this type of rash "razor burn."
Treatment and Seeing Your Doctor
If you have an ingrown hair, avoid picking or plucking at the area. Keeping your skin moisturized may help alleviate discomfort, but it won't prevent ingrown hairs from occurring. Wearing looser clothing will help prevent irritation of an ingrown hair and help prevent others from developing. Use clean washcloths and razors if you must shave. Call your doctor right away if you develop a fever or notice redness and warmth spreading from the affected area. Schedule an appointment with your doctor if your symptoms get worse, return often or last longer than 2 to 3 days. Your doctor may remove the hair with sterile tools or prescribe medication. She may recommend stopping shaving for several months.