A sore chest is a common side effect of a chronic cough. Coughing is the body's way of clearing the throat and keeping mucus from building-up in the chest. A chronic cough is any cough that lasts for more than eight weeks and is caused by a specific condition or disease, according to MedlinePlus, a service of the National Institutes of Health. It is not normal to cough continually for an extended period of time and a chronic condition needs to be evaluated by a medical doctor. Over time, the chest muscles become sore because of excessive use. The most common causes of a cough with a sore chest are bronchitis, pneumonia and asthma.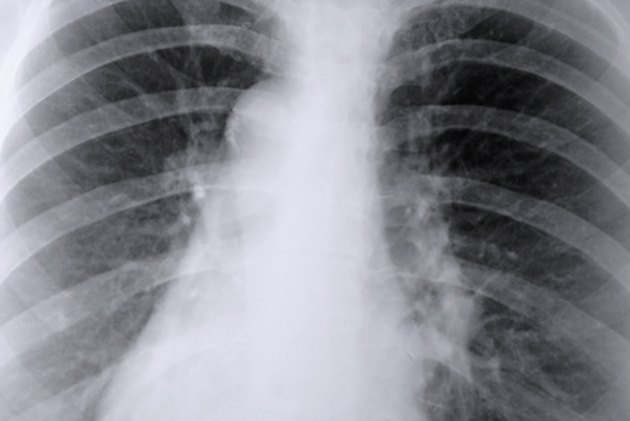 Bronchitis
Bronchitis is an infection in the bronchial tubes, or the airways. The infection can be bacterial or viral, causing the airways to swell, restricting the person's ability to breathe normally. Acute bronchitis is commonly the result of another respiratory infection or the common cold, according to MayoClinic.com. Chronic bronchitis is a long-term inflammation of the bronchial tubes caused by chronic allergy conditions or chronic asthma. Common symptoms of bronchitis include a sore chest, wheezing, chest tightness, fever and body chills. An inability to breathe normally that leads to lightheadedness should prompt a trip to the doctor.
Pneumonia
Pneumonia is an infection in the lungs that affects millions of Americans annually, according to MedlinePlus. Various germs, viruses and bacteria can cause pneumonia. The most common symptoms of pneumonia are coughing, shortness of breath, chest discomfort, fever, body shakes, mental confusion, excessive sweating, loss of appetite and headache. Pneumonia is treatable, but poses a greater risk to people over 65 and young infants. Hospitalization may be required. The lungs may fill with fluid, causing a chronic cough. These two elements can cause significant chest soreness. If the infection is caused by a virus, the patient will be advised to rest and drink plenty of fluids until the body's natural defenses fight off the infection. Over-the-counter medications, such as expectorants and pain relievers may be used to alleviate symptoms.
Asthma
Asthma may be the cause of a constant cough coupled with chest soreness. Asthma is a chronic lung disease that causes the lungs to become inflamed without the introduction of a virus or bacteria. The inflammation in the lungs causes swelling in the airways, making it difficult to breathe, according to the National Heart, Lung and Blood Institute. The body responds with wheezing and coughing, accompanied with chest pain. Half of asthma conditions are considered allergy-induced, where allergens cause the onset of an asthma attack.