Allergy symptoms can be particularly bothersome at night and may interrupt sleep. Indoor allergens, such as dust mites, mold and pet dander, can cause allergy symptoms primarily at night. As discussed at MayoClinic.com, allergies occur when the immune system reacts to a benign substance as if it were a dangerous substance and this leads to the symptoms of allergic disease.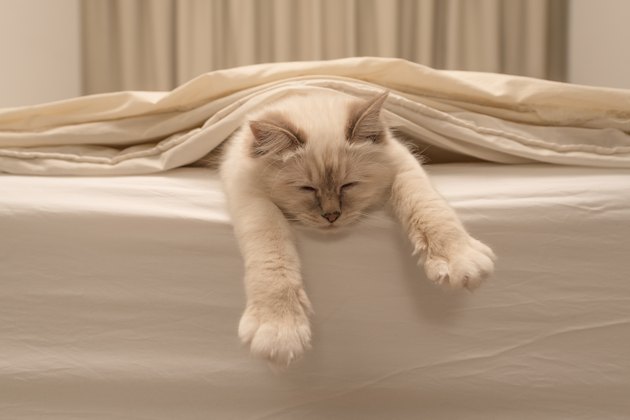 Runny Nose
A runny nose, or rhinitis, is a common nighttime allergy symptom. While this symptom may be present in the day as well, it is typically more bothersome at night because nasal congestion can make sleeping difficult. Additionally, many patients with nighttime symptoms are allergic to dust mites. Since a person is exposed to dust mites in a mattress or pillow all night long, rhinitis can worsen with this exposure. Antihistamines can be used to help reduce symptoms of rhinitis, and a sedating antihistamine such as diphenhydramine can be used at night.
Cough
Cough is a significant problem during the night because the nasal drainage is irritating to the throat, particularly when a patient lies flat. For some people, nighttime cough can also be related to asthma. For these people, albuterol and other therapy for asthma may help to control symptoms, but a physician should help make this diagnosis.
Watery and Itchy Eyes
Watery and itchy eyes are symptoms that can occur during the day and at night. These symptoms can also result in loss of sleep, and a patient's eyes may be swollen and uncomfortable in the morning. Fortunately, antihistamines or an intranasal corticosteroid spray can help relieve these symptoms.
Prevention
Since nighttime allergy symptoms are often caused by indoor allergens, measures to reduce these allergens can reduce symptoms. Dust mite protection covers on mattresses and pillows as well as washing sheets in hot water once weekly help to reduce the dust mite burden in a room. Removing pets from the home or at least from the bedroom and washing pets can help patients with pet-dander allergies.
Is This an Emergency?
If you are experiencing serious medical symptoms, seek emergency treatment immediately.