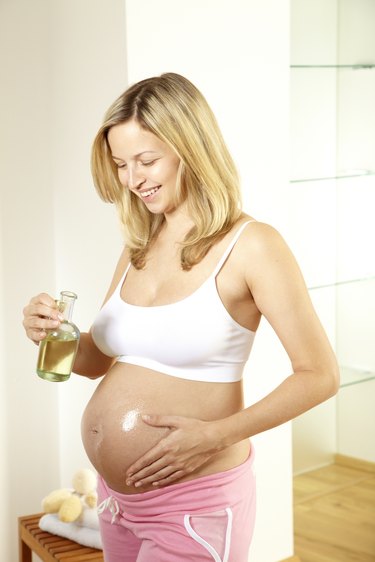 Bio Oil was formulated by the German cosmetic scientist Dieter Beier. Bio Oil contains a unique ingredient called PurCellin Oil, which is a synthetic reproduction of the preen oil found in ducks. PurCellin Oil is combined with vitamins A and E, calendula, lavender, rosemary and chamomile. Bio Oil is believed to be helpful is reducing the appearance of scars, stretch marks and uneven skin tone.
Step 1
Apply Bio Oil to a scar twice daily for three months once the wound has already healed. Do not use Bio Oil on broken skin. Massage the oil into the skin with your fingertips using a circular motion. Younger scars have a better chance of healing with Bio Oil.
Step 2
Reduce the appearance of stretch marks using Bio Oil. For stretch marks that are already present, massage the mark twice daily with Bio Oil over a three month period. Stretch marks are permanent and will not disappear completely with Bio Oil, but may be greatly reduced. To help prevent pregnancy stretch marks, rub the breasts, abdomen, thighs, hips and buttocks with Bio Oil twice daily from the first trimester of pregnancy.
Step 3
Use Bio Oil as a moisturizing lotion to help reduce uneven skin tone. For at least three months, massage the oil into your face twice daily after cleansing. Apply sunscreen over the Bio Oil if you plan to be out in the sun.
Tip
If your skin condition has not improved over the three-month time period, consult a dermatologist.
Warning
According to the Cosmetic Database, one or more of the ingredients in Bio Oil is linked to cancer, neurotoxicity and endocrine disruption.