It turns out Mother may not always know best. Talcum powder, used to dust and dry countless baby bottoms for generations, contains talc, a mineral that may cause serious health problems. Though many doctors consider it unsafe, talcum powder is still a primary ingredient in some baby powders and feminine hygiene products. As of 2010, talc in talcum powder is still considered safe for personal and cosmetic use by the Food and Drug Administration.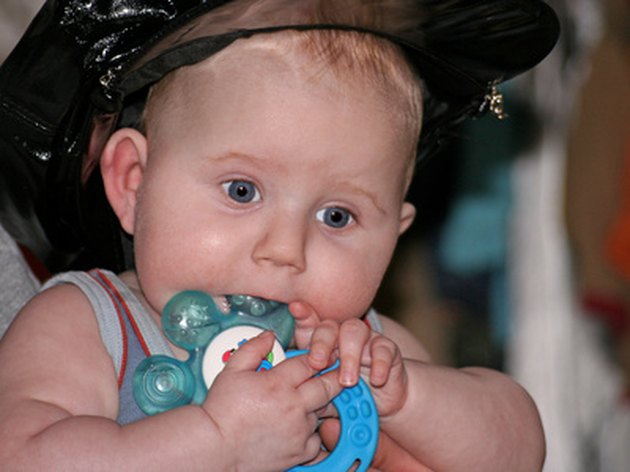 Inhalation
Talc is composed of small particles that, when inhaled, may cause the lungs to become inflamed. If you use talcum powder to dry your child's bottom, your child may easily inhale the talc dust and become sick. According to Dr. Kristie Leong, some babies exposed to talc in this way have died. Dr. Leong advises parents to avoid any products containing talc. Signs that your baby may have inhaled talcum powder include fast and shallow breathing, coughing, a blue tint to the skin, diarrhea or vomiting, convulsions and involuntary movement in the arms and legs, according to MedlinePlus.
Ovarian Cancer
According to the Cancer Prevention Coalition, the use of feminine hygiene products containing talc puts women at an increased risk for ovarian cancer. The talc may travel through a woman's reproductive system and lodge in the lining of the ovaries. According to Dr. Samuel S. Epstein, in spite of the potential risks, approximately one in five women use talc to maintain feminine hygiene. The American Cancer Society notes that the risk of ovarian cancer from exposure to talc drops when a woman undergoes a tubal ligation to prevent pregnancy.
Endometrial Cancer
According to a study conducted by Dr. Stalo Karageorgi and colleagues of Harvard School of Public Health and published in the April 20, 2010 online issue of "Cancer Epidemiology, Biomarkers and Prevention," a link exists between the use of talc and endometrial cancer. Post-menopausal women who used talc and women who used talc on a regular basis had the greatest risk of getting endometrial cancer.
Lung Cancer
If you work in a job where you regularly inhale talc, you have a greater risk of developing lung problems or cancer, according to MedlinePlus. For cosmetic use, however, the link between talc inhalation and lung cancer has not yet been positively established.
This article is intended as a general overview of the side effects of talc and should not replace the advice of a qualified medical professional. If you or your child accidentally inhales talc, consult a doctor for treatment.