The popularity of coffee in the modern world is indisputable. According to the National Coffee Association's Coffee Trends Study conducted in 2013, 83 percent of Americans surveyed claim to have had coffee within the last year, while 63 percent said they drank coffee every day. Coffee contains a chemical stimulant called caffeine. A stimulant has several biological effects that "rev" up the body, which is often the reason people drink it. However, coffee drinkers may want to know how caffeine affects the body and how long it exerts its effects.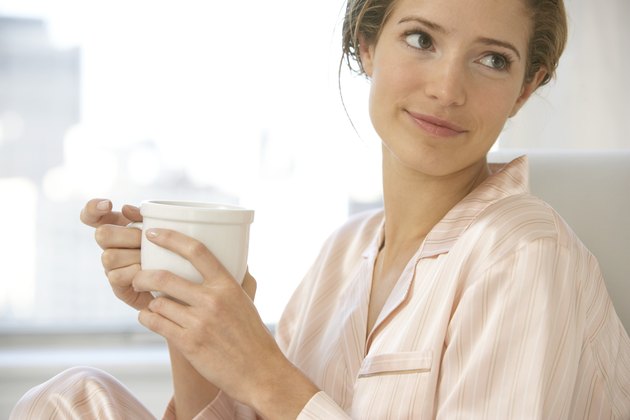 Caffeine Concentration
The amount of caffeine in a cup of coffee varies significantly by the type of coffee and the preparation technique. According to the International Coffee Organization, the automatic drip method produces a beverage containing an average of 115 milligrams of caffeine per 5-ounce cup, while instant coffee delivers significantly less -- an average of 65 milligrams per 5-ounce cup. Percolator methods, such as the French press, yield an average of 80 milligrams per 5-ounce cup. However, the amount of caffeine varies widely from cup to cup even when taking these factors into consideration.
Physiological Effects
Caffeine's stimulant effect on the central nervous system is dose-dependent; the more caffeine consumed, the stronger the stimulant effect. It blocks a neurotransmitter called adenosine, which is a central nervous system depressant and has a calming, slowing effect on the brain. When adenosine is blocked, the adrenal glands begin secreting adrenaline, which is the chemical associated with the body's "fight or flight" response. This response is characterized by increases in heart rate, body temperature, blood pressure and blood sugar levels. When caffeine blocks adenosine, it also leads to increased dopamine levels, which are associated with an elevation in mood.
Onset and Duration
It takes approximately 15 to 45 minutes for caffeine to reach its peak levels in your bloodstream. Caffeine has a half-life of approximately five to six hours, meaning that it takes this long for its concentration in your bloodstream to reduce by half. So, if you have a 10-ounce cup of coffee at 7 a.m. containing approximately 250 milligrams of caffeine, by 1 p.m. your body will still have 125 milligrams of caffeine in circulation. For smokers, the half-life of caffeine in the bloodstream is only three hours, which may offer insight into why heavy smokers are often also heavy coffee-drinkers.
Timing of Caffeine's Effects
Amounts of caffeine up to 250 milligrams show very few ill effects and may help individuals feel more alert. Doses exceeding 1,000 milligrams may affect sleep and cognitive performance. Side effects of quitting caffeine appear roughly 12 to 24 hours after cessation of coffee consumption and may include headaches, irritability and constipation. If you are consuming high levels of caffeine, University of Michigan's Student Health Services recommends reducing caffeine intake gradually to avoid withdrawal effects.