Excessive fluid in the ear is the most universal form of hearing loss among children. The middle ear is located behind the eardrum and is normally filled with air. When a child has middle ear fluid, it means there is a buildup of watery or mucus-like fluid. There are numerous signs to watch for in your child to indicate that he may have fluid in his ears.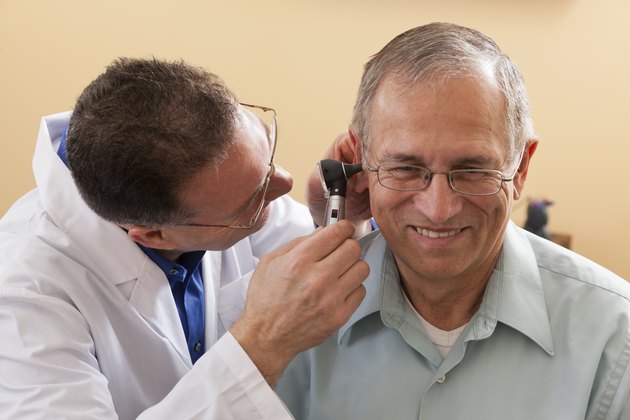 Otitis Media
Otitis media with effusion -- also known as glue ear -- is the accumulation of fluid in the middle ear due to swelling and blockage in the Eustachian tube, connecting the middle ear to the throat. This condition may make the ear feel full and cause loss of hearing. Fluid in the ear may not cause obvious symptoms like pain or pus drainage that are commonly associated with ear infections. However, the collection of fluid can affect your child's hearing.
Hearing Loss
Hearing can become impaired when fluid that is trapped inside the middle ear surrounds the eardrum and the small bones. This confinement inhibits these ear structures to freely transport sound to the inner ear at adequate levels. When younger children have fluid in their ears, you may notice that the volume on the television is turned up at a higher than normal level. He may not seem to listen or pay attention. He may more frequently ask you to repeat your words and talks less or speaks more loudly.
Additional Signs
Older children may tell you that their ear hurts and has a plugged up feeling. Pressure caused by a buildup of fluid can cause an earache. Fluid may drain from the ear, and your child may pull on the ear. He may also appear clumsy -- structures in the inner ear are responsible for maintaining balance.
Hearing loss can make a child feel irritated and discouraged. In school, performance levels may decline due to problems with staying focused and being able to follow instructions. Children with fluid in the ear may have trouble getting along with classmates. Some may become disobedient and show signs of restlessness or nervousness.