Eating the right foods just might reduce your aggravating ringing in the ears to a mild annoyance. Tinnitus, or ear ringing, is not a disease. The high-pitched sound that serenades you is a symptom, and although it cannot be eliminated, it could be reduced by incorporating a few easy-to-find foods into your diet.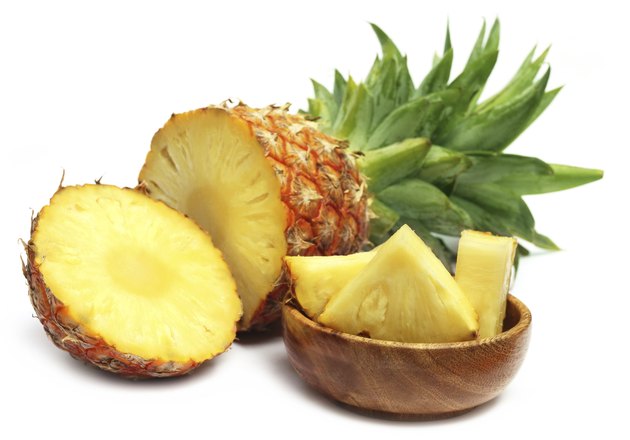 Pineapple
The cause of your ear ringing might not be known; however, one of the possible causes of ear ringing is inflammation in the middle ear. A study published in 2010 in the journal "Inflammatory Bowel Diseases" suggests that pineapple has the ability to reduce inflammation throughout the body, due to bromelain, which is found in the stem of the pineapple. Fresh pineapple consumption is one solution you could try to reduce that hissing or ringing sound in your ears. Unless you have an allergy, eating pineapple should not cause any harmful side effects, and the vitamins contained in pineapple are healthy for the rest of your body too.
Spinach
According to the National Institute on Deafness and Other Communication Disorders, tinnitus occurs in approximately 10 percent of the population. Ear ringing indicates a problem with the auditory system, which includes the brain and and nerve pathways connecting to the ear. In order to improve nerve function and decrease the phantom sounds, your body needs magnesium. A fresh spinach salad with other dark green vegetables, topped with almonds and a side of yogurt would be the perfect magnesium-rich lunch.
Cereal
A 2003 article in "Otology and Neurotology" finds a link between low blood levels of zinc and ear ringing. One of zinc's main functions is to aid proper cell division. In order to keep your cells healthy and to decrease the tinnitus, try a breakfast of fortified cereal and skim milk. If breakfast does not appeal to you, end your day with an oyster appetizer or main course.
Meat
A link between a Vitamin B12 deficiency and ear ringing has been reported in a 2004 issue of the "American Journal of Otolaryngology." To increase your personal B12 levels, beef, eggs, cheese, fish and other animal products are recommended. Use moderation when eating these, as too many animal products can result in increased cholesterol, which can decrease blood flow to the nerves of the ear.
Bananas
Another possible cause of ringing in the ears is excess fluid in the ear canals. Bananas contain potassium, which helps to regulate fluid balance in the body. Or, you could munch on an apple, apricots or asparagus for a potassium-rich snack. Keeping fluid levels in mind, it is also important to maintain consistent hydration every day. Avoid taking in too much or too little water.