Isopropyl alcohol, also called rubbing alcohol, is a specific type of alcoholic solution characterized by high flammability, a strong odor and a fast evaporation rate. It is also a common ingredient in some hair care products, and even has some hair applications in its pure form. Depending on the situation, its effect on hair may be considered beneficial or detrimental.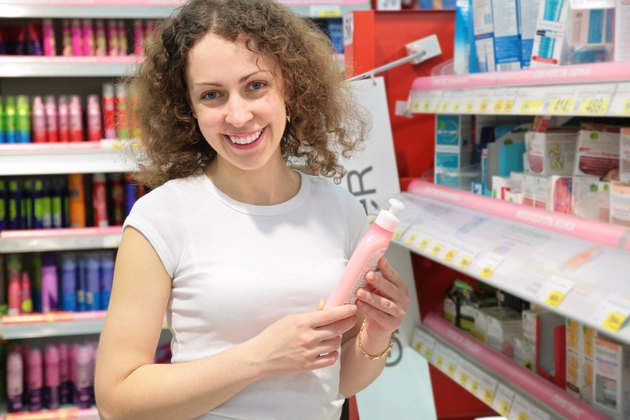 Drying
Isopropyl alcohol has a powerful drying effect on hair, as well as on other human tissues, according to "Don't Go Shopping for Hair Care Products Without Me: Over 4,000 Products Reviewed, Plus the Latest Hair Care Information," by Paula Begoun. In extreme cases, this can leave hair so brittle that it may crack and break, but this is only likely if pure isopropyl alcohol is applied to the hair and left to fully dry. Hair care products that list isopropyl alcohol as an ingredient may have some detectable drying effect, but the concentration of alcohol is typically too low to cause any serious damage.
Increased Absorption
Isopropyl alcohol is also used to increase the absorption of other substances into hair follicles, according to Begoun. "A Consumer's Dictionary of Cosmetic Ingredients," by Ruth Winter, lists isopropyl alcohol as a common ingredient in hair color rinses because of this property. While isopropyl alcohol can be helpful in the absorption of dye, you should be cautious when using products that claim to moisturize but also contain this ingredient. Some such products contain isopropyl alcohol to aid in the absorption of moisturizing ingredients, but since this alcohol has a drying effect, the end result can sometimes be hair that is dryer than before.
Head Lice Eradication
While it can come at the expense of temporary overdrying of hair, isopropyl alcohol can be used in home treatments of head lice, according to "Safety, Nutrition and Health in Early Education," by Cathie Robertson. One remedy using this ingredient involves dampening the infested hair with isopropyl alcohol and rubbing the hair vigorously with a white towel for approximately 30 seconds. This may intoxicate the head lice, causing them to detach from the hair and come out in the towel, but it will not kill them. Isopropyl alcohol and another alcohol called terpineol are common additives in malathion, an FDA-approved treatment for head lice.
Drying of Hair Care Products
One of the key reasons why isopropyl alcohol is included in hair styling products like hairspray is because it helps the other ingredients to dry on your hair quickly without the application of heat, according to "Beauty Solutions," by Tanushree Podder. The alcohol can also help aerosol hair products distribute their ingredients more evenly over your hair.