An aspirin peel contains salicylic acid that may help reduce excessive oil and acne. A citrus juice and gelatin peel will firm and tone while the antioxidants in the citrus juice will protect and nourish the skin. Both will exfoliate and rejuvenate the skin by removing dead, dry skin cells. Avoid using skin peels if your skin is sensitive or if you have open sores. Talk to your physician or dermatologist if you have questions or concerns about using facial peels.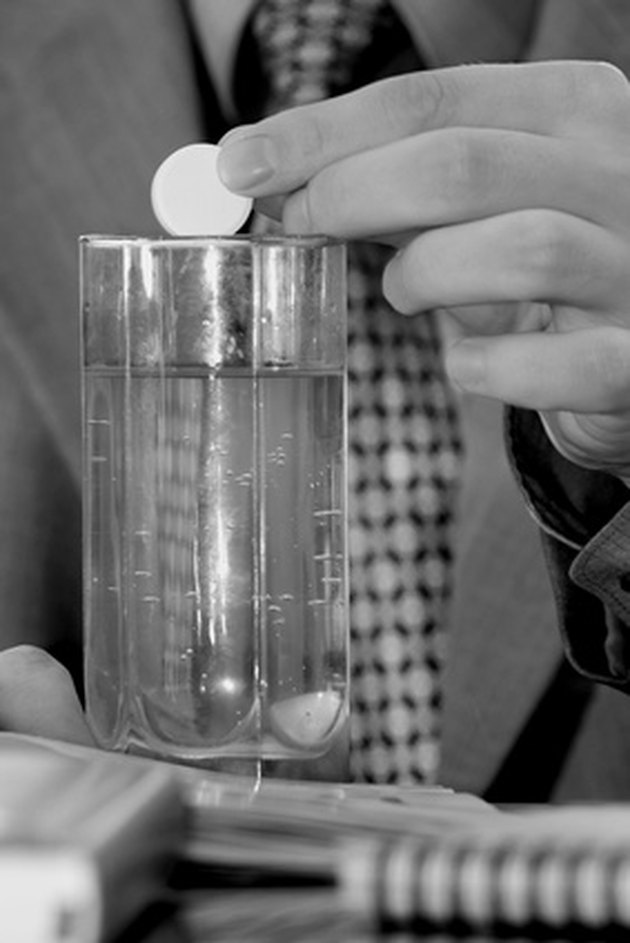 Aspirin Peel
Step 1
Place 6 to 12 non-coated adult aspirin into a small bowl. Mash the aspirin to a powder with the back of a spoon.
Step 2
Add freshly-squeezed lemon juice a few drops at a time until the mixture forms a paste. Allow the mixture to thicken for 5 to 10 minutes.
Step 3
Wash your hands with soap and water, then use your fingers to apply the aspirin mixture to problem areas or blemishes. Leave the mixture on your skin for 5 to 10 minutes.
Step 4
Fill a cup with warm water, then stir in a teaspoon of baking soda. Dip a cotton ball into the water and use to remove the aspirin mixture from your skin. Baking soda will neutralize the effects of the acid in the aspirin.
Step 5
Rinse your face with lukewarm water, then dry your skin with a soft towel. Apply your favorite moisturizer.
Citrus Peel
Step 1
Squeeze the juice of one lemon and one orange into a small bowl. Heat the citrus juice in the microwave until the mixture is hot but not boiling.
Step 2
Add one packet of unflavored gelatin. Stir until the gelatin is completely dissolved, then set the bowl aside until the mixture is comfortable to the touch.
Step 3
Spread the citrus mixture over your skin. Leave the mixture in place for 5 to 10 minutes, then rinse with warm water.
Step 4
Pat your skin dry, then apply your favorite moisturizer.
Things You'll Need
6 to 12 adult aspirin

Small bowl

Spoon

Fresh lemon

Hand soap

Cup

1 tsp. baking soda

Cotton ball

Soft towel

1 lemon

1 orange

1 pkt. unflavored gelatin
Tip
Avoid using an aspirin peel if you are allergic, or have sensitivities to aspirin.