Usually it's the protein in fish that causes an allergic reaction, rather than the fat from the oil. However, during processing, it's possible that the oil could come into contact with the fish's protein, causing an allergic response when you consume the oil. If you know you're allergic to salmon, halibut or tuna -- some of the most common allergenic fish -- be wary of taking fish oil.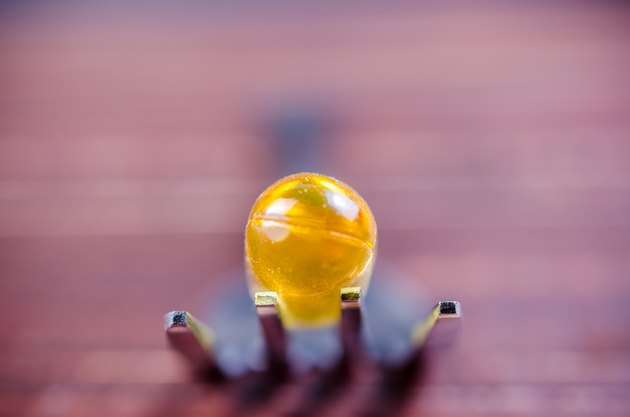 Initial Reactions
If you touch the fish oil supplement and start getting itchy right away, that's your first clue that you're probably allergic to it. You might experience redness, swelling and hives on your hands, face or other areas that come into contact with it. Skin irritations can also surface after you take it. Once you ingest the fish oil, your nose will probably start running and your eyes may tear up. You could even have a severe headache shortly after.
Gastrointestinal Signs
After consuming fish oil, if you're allergic to it, your gastrointestinal system may cause a big rumbly stir. At first you could have cramps, bloating and severe indigestion. Depending on the severity of your allergy, you might have nausea or throw up shortly after taking the supplement. If the fish oil makes it all the way to your intestines, diarrhea might set in within a few hours after you take the supplement.
More Severe Symptoms
Being severely allergic to fish oil could affect your breathing. After taking the supplement, you might start wheezing, coughing and having difficulty catching your breath. As your reaction progresses, your throat may start narrowing and swelling, making taking a breath even more difficult. These are warning signs of anaphylaxis, which can lead to loss of consciousness or even death if not treated right away.
Treating the Allergy
You can't get rid of your fish oil allergy, so in case you come into contact with fish oil, you need to know what to do. Taking antihistamines can be helpful for mild symptoms, although they're generally not recommended because they take too long to work. Your physician can give you a prescription for an epinephrine injection that will stabilize your immune system's response immediately, minimizing your risk of slipping into anaphylaxis. Even if you only show mild allergic symptoms or you have to give yourself the epinephrine injection, you should still follow up with a doctor in the emergency room. You need to ensure that your allergic reaction has subsided completely.