There are a few different types of mites that can affect a hair follicle. Scabies are a common human skin mite that burrows into the skin and lays eggs. The larvae of the scabies mite can live in and feed off a hair follicle. Chiggers are the larval form of a mite found primarily in the southeastern and middle regions of the United States. These baby mites attach to the skin around pores and hair follicles and cause intense itching, according to the Missouri Department of Conservation. People all over the world have a microscopic mite, called demodex, which lives in the hair follicle, but generally does no harm unless the host develops a sensitivity to them. Treatment for scabies and demodex require a prescription medication from a doctor, but chiggers can be easily treated at home.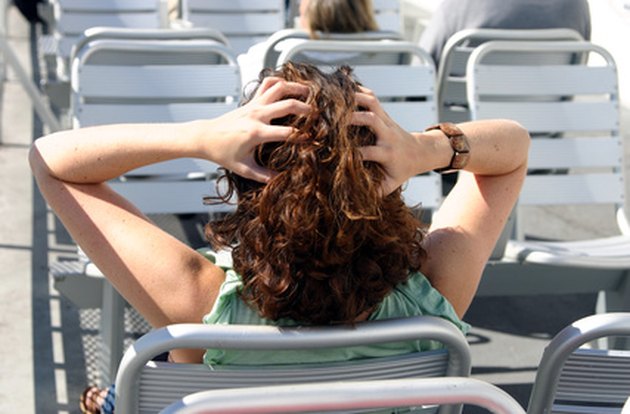 Scabies
Step 1
Visit your doctor to determine if you have a scabies infestation.
Step 2
Read and follow the instructions exactly as they appear on the scabicide your doctor prescribes. When used properly, scabicides will kill all mites, larvae and eggs including those found in your hair follicles.
Step 3
Wash all bedding and clothing while you had scabies to prevent reinfestation.
Chiggers
Step 1
Wash the hair thoroughly with soap and water, using a washcloth to rub your scalp and skin. Chigger larvae do not attach very firmly and the rubbing action should dislodge those that are attached at your hair follicles. The water will rinse them away and drown them, according to the Missouri Department of Conservation.
Step 2
Rub your scalp and skin with a dry washcloth or towel if you are unable to bathe. While this may not rid your body of all chiggers, it should reduce the number of them that are attached.
Step 3
Wash the clothing you wore when you came in contact with the chiggers in hot, soapy water to kill any mites remaining on your clothing.
Demodex
Step 1
Visit your doctor to determine if treatment is necessary for the demodex in your hair follicles. In most cases, they live there harmlessly. Your doctor will likely take a skin scraping to determine the concentration of demodex in your hair follicles and will likely only prescribe treatment if you are experiencing a negative reaction to their presence such as a rash or rough, dry and scaly skin.
Step 2
Wash your face and body regularly to reduce the number of demodex living on your body, if your doctor opts not to prescribe a pesticide to kill the mites, advises the New Zealand Dermatological Society.
Step 3
Exfoliate your skin periodically to remove dead skin cells and possibly decrease the number of demodex in your hair follicles.
Things You'll Need
Prescription medication

Soap

Washcloth