Skin tags usually aren't cancerous. Instead, they are harmless pieces of skin connected by a slim stalk of skin typically caused by friction. Skin tags develop in folds of skin or in places where clothing or jewelry constantly rub the skin. Most people have them, especially as they age. According to the Mayo Clinic, removing a benign piece of skin on your own can easily lead to infection. A doctor should evaluate and remove skin tags to prevent complications.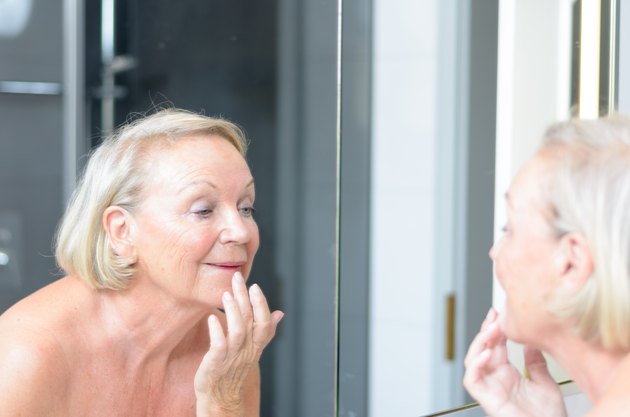 Treatment
Once a skin tag has been diagnosed as being benign and unrelated to an underlying medical condition, the skin can be frozen with liquid nitrogen and the errant skin knocked off. Other methods of removal include cauterizing or burning, or it can be snipped off with surgical scissors. Small tags can be removed with anesthesia. A topical numbing cream may be required to remove larger skin tags or multiple tags.
Features
Women are more at risk of developing skin tags than men, typically after they've gained weight. According to the Cleveland Clinic, skin tags usually form on the chest, under the arms or breasts, on the neck and back or in the groin area. Skin tags aren't painful while still intact and not infected. However, they may continue to cause irritation by rubbing against clothing or jewelry, or under the folds of fat.
Potential
Skin tags in the groin area may be a sign of a virus called genital warts. Genital warts are a sexually transmitted disease that present as a skin tag in the groin area. The infected tags may appear on the inner thigh, penis, vagina, scrotum, vulva or anus. According to STD Help, about 1 percent of the population is infected with genital warts, which are highly contagious.
Complications
Because of their location, genital warts are easily prone to infection. They often open and bleed, leaving them vulnerable to additional bacteria that create more complications on top of the viral infection. They can become itchy and cause pain during urination or sex. The skin tags can be frozen off or surgically removed, but the viral infection stays in the body. There is no cure for genital warts. Sexually active people with the genital skin tags should wear a condom to prevent passing along the infection.
Considerations
A skin disease called molluscum contagiosum also presents with flesh-colored skin tags. The condition is caused by a viral infection. Skin tags caused by molluscum can appear anywhere on the body -- including the groin area, face, neck, legs, arms and chest. The virus that causes the skin tags is spread between people through direct skin contact but also can be spread through shared use of towels, in public swimming pools or from toys. According to the Centers for Disease Control and Prevention, the condition most commonly is seen in children younger than 10 and in adults with compromised immune systems. Lasers and freezing are the most common techniques for removing molluscum contagiosum skin tags, although they disappear naturally within a year. They should be covered with a bandage to prevent spreading.