Skin is a dynamic organ, with new growth constantly replacing dead skin cells. In fact, your body may get rid of as many as 40,000 skin cells every day. But when you wear a cast, this dead skin doesn't get a chance to flake off, and after cast removal, there is usually an abundance of rough, scaly, itchy and often smelly skin. Patience and simple self-care steps can manage this temporary discomfort, and help get your skin back to normal soon.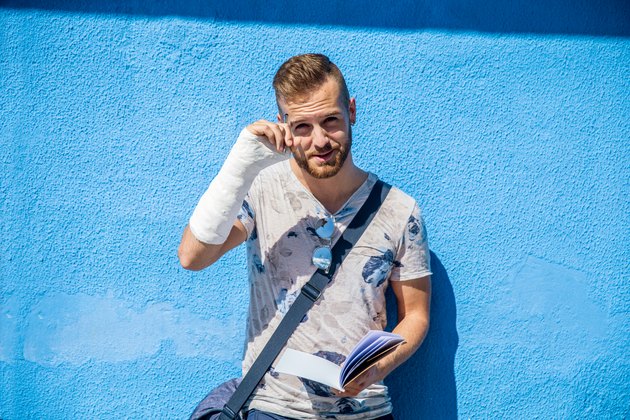 What's Normal
After a cast is removed, you may be startled at the condition of the skin underneath. In fact, it's normal for this skin to be scaly, dry, pale and itchy. The affected skin may also have darker and thicker hair than usual, and may reek of unpleasantness. These skin changes occur because the cast prevented the normal loss of skin cells, and was deprived of exposure to air and your usual hygiene.
Treatment Tips
The best way to remove this scaly, dead skin is to soak the affected skin in warm water for 20 minutes, twice a day. Gently rub or pat the skin with a soft towel, but don't scrub the scales off, since this may lead to skin breakdown, irritation and make infection more likely. The dryness after cast removal can be relieved by applying an alcohol-free moisturizing lotion after soaking. Also, if the cast was covering an area that is normally shaved, avoid shaving until the skin is healed. Over time, the dryness will resolve, the scales will fall off, and the affected hair will become normal again.
Prevention
While the buildup of dry skin under a cast can't be prevented, you can minimize skin problems before and after cast removal. It's important to follow your cast care instructions . For instance, you'll you want to avoid water getting under the cast, which can lead to skin irritation or infection. Moisture can also make the skin more smelly underneath. If the skin under the cast gets itchy, resist the temptation to use sharp objects to relieve the itch, as this can lead to skin injury. After the cast is removed, prevent skin problems by allowing your skin to heal on its own. Soak as directed, and avoid picking or peeling the dry skin, and be careful not to scratch and injure the itchy skin. Patience is a virtue here, self-care steps will usually help improve the skin health in a matter of days.
Warnings
While some itching and dry skin is normal, severe skin irritation or pain could signal a problem. Infection and skin injury are main concerns, so see your doctor if you have severe pain, redness, tenderness, fever or drainage. Also see a doctor right away if you have open sores on your skin after cast removal.
Reviewed by Kay Peck, MPH RD