Rashes and uncomfortable skin conditions that appear on top of the feet typically are different than skin disorders that attack other parts of the foot, such as warts or corns, according to Skin Sight. Skin rashes on top of the feet usually are related to disorders that affect the entire body. Rashes on top of the feet and ankles are caused by a number of factors, ranging from sun exposure to dermatitis and allergies.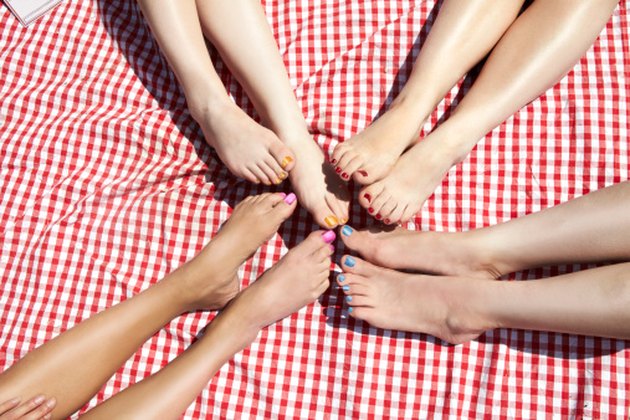 Prevalence
One of the most common fungal infections that affect men, women and children is athlete's foot. According to the National Institutes of Health, athlete's foot is in the family of tinea infections that also include jock itch and ringworm. The infection easily is passed on in soil and tiled shower rooms, from person to person and through infected animals. The rash on top of the foot is red and scaly, and typically spreads to the sole of the foot and between the toes.
Treatment
Treatment for rashes that appear on top of the foot depends on the source of the infection. According to the American Academy of Dermatology, your doctor may be able to diagnose the type of rash by a visual inspection. Most likely, a blood test or skin sample will be tested to confirm the type of infection that's present. Treatment may include topical anti-fungal creams, corticosteroids or antibiotics.
Considerations
Nerve damage and poor blood flow common in people with diabetes and peripheral vascular disease causes a loss of feeling in the feet. According to the National Diabetes Information Clearinghouse, if you don't feel pain or discomfort on your feet, rashes can spread and become worse over time. Consider your feet and check for rashes as part of a daily routine to avoid infections and catch problems before they worsen.
Effects
Sunburn causes a rash on top of the feet when you lose protection from your sunscreen and expose your feet to the ultraviolet rays for a period of time. The rash and redness appear within 12 to 24 hours after exposure and may be worse if you take certain medications such as those used to treat high blood pressure. Melanoma and squamous cell carcinoma are dangerous forms of skin cancer that can occur on the top of the feet from sun exposure. The rash starts out as a small, pink patch or an unusual mole-like spot.
Features
Rashes that feature swelling, heat and tender skin may be a result of exposure to a staph infection. Fever and chills often accompany staph infections that appear on the feet. Blisters and pus-filled bumps also develop. Dermatitis is another common condition that features rashes, redness and swelling on top of the feet and around the ankles. Called stasis dermatitis, the skin irritation is a response to fluid buildup under the skin.