Nasal irrigation with saline solution may be used to treat allergies, sinus discomfort, colds or congestion. Typically, nasal irrigation requires a small pot, called a Neti pot or a device called a pulsatile irrigator. While physicians and allergists typically find nasal irrigation to help relieve congestion and discomfort, some people may find that frequent irrigation worsens congestion or increases the risk of sinus infections.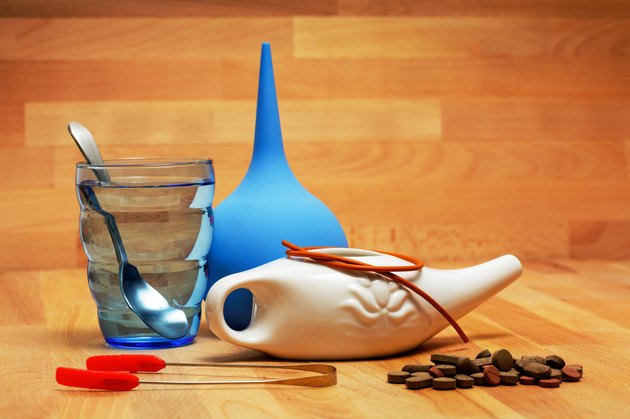 Function
Nasal irrigation washes out the sinuses using a mild saline solution. While pulsing nasal irrigation systems are available, Neti pots or bulb syringes are typical for home use. Prepare saline by mixing 1 to 2 level teaspoons of salt in 1 pint of warm water, recommends the University of California at San Diego. Allow the salt to dissolve fully. Lean over the sink and pour water into one nostril, allowing it to flow out the other. Repeat for the other side.
Significance
Nasal irrigation is recommended to treat a variety of upper respiratory conditions, according to the University of Wisconsin Department of Family Medicine. Physicians may recommend irrigation for allergies, sinus infections and the common cold to flush out mucus, irritants and allergens. The University of Wisconsin reports that nasal irrigation led to a reduction in symptoms, nasal spray usage and the need for antibiotic therapy.
Time Frame
According to MayoClinic.com, nasal irrigation can be safely used up to several times a day to relieve congestion, pressure and discomfort. If you do opt to use nasal irrigation regularly, as opposed to acute short-term use, you need to find the right balance for your nasal cavity. According to the University of Wisconsin, typical use patterns stabilized at three times per week. Excessive use of the Neti pot may lead to uncomfortable complications.
Considerations
Aggressive nasal irrigation may remove too much mucus from the sinuses, eliminating natural antimicrobial agents, according to Talal M. Nsouli, M.D., clinical professor of pediatrics and allergy and immunology at the Georgetown University School of Medicine. Long-term use of sinus irrigation can result in chronic sinus infection. Chronic sinus infection may cause increased congestion, discomfort and other symptoms.
Warning
Balance your use of nasal irrigation to avoid potential congestion and sinus infection caused by overuse. Opt for short-term use of sinus irrigation, or experiment with the frequency of use to find a level that relieves congestion without causing infection, suggests Melissa Pynnonen, M.D., associate professor of otolaryngology at University of Michigan Medical School. You should wash your Neti pot or syringe after use and replace when you replace your toothbrush, approximately every three months.