The human papillomavirus, or HPV, causes nonmalignant growths on the skin called warts, according to MayoClinic.com. Warts generally look like raised, rough bumps on the skin. Warts may cause pain and embarrassment. See a physician to determine if the skin growth is a wart. The physician may use several techniques to remove your wart such as freezing or cutting the wart out. You may have success attempting to remove the wart at home using white vinegar. Do not attempt to treat any wart if you are not sure if the growth is a benign wart.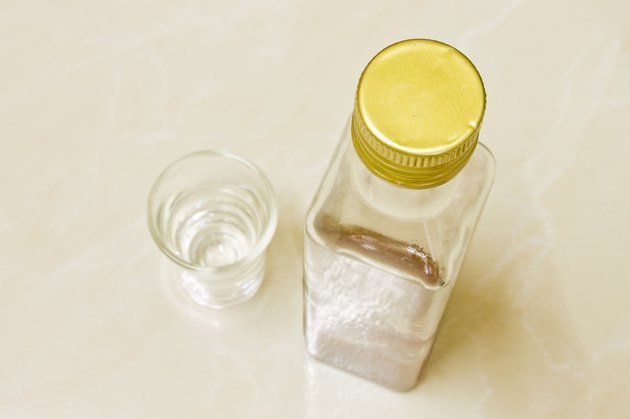 Using Cotton
Step 1
Wash the affected area with a mild soap and water. Dry thoroughly.
Step 2
Remove the tip of a cotton swab and ball up the bit of cotton removed or use a portion of a cotton ball.
Step 3
Soak the cotton in the white vinegar until the whole thing is wet. Gently squeeze out any excess vinegar. Apply the cotton to the wart. Try to avoid getting any of the vinegar on the skin surrounding the wart.
Step 4
Apply a piece of medical tape or an adhesive bandage to help secure the white vinegar soaked cotton on the skin. Leave it in place overnight.
Step 5
Remove the tape or bandage in the morning as well as the cotton. Look for a darkening of the wart. This signifies the white vinegar is working.
Step 6
Repeat the procedure each night until the wart turns black and falls off. The process may take up to two weeks.
Soaking
Step 1
Mix equal parts white vinegar and water.
Step 2
Soak the body part with the wart in the solution for 20 minutes daily.
Step 3
Repeat until the wart turns black and falls off.
Things You'll Need
White vinegar

Cotton ball or cotton-tipped swab

Medical tape or adhesive bandages
Tip
If using white vinegar does not work, use the same method and try apple cider vinegar.