CholestOff is a nonprescription dietary supplement promoted to maintain healthful blood cholesterol levels. MayoClinic.com reports that plant sterols and stanols, ingredients in CholestOff, can block your body's absorption of cholesterol. However, CholestOff, manufactured by Nature Made, is not approved by the U.S. Food and Drug Administration, as of November 2010.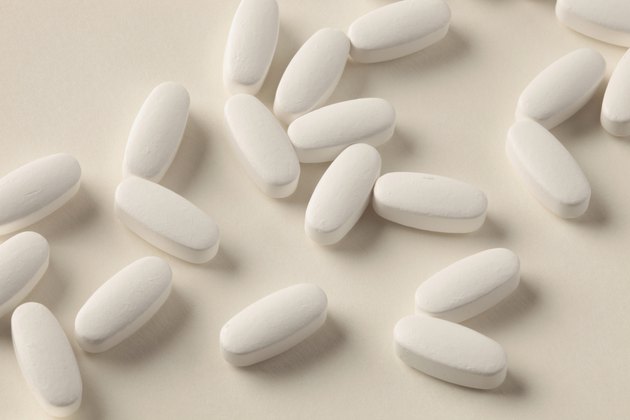 Product Ingredients
Dr. Thomas Lee, editor in chief of Harvard Heart Letter, suggests that the active constituents in CholestOff are plant sterols and stanols derived from pine trees. These ingredients help lower your low-density lipoprotein or "bad" cholesterol by preventing the cholesterol you get from food from entering your bloodstream. According to the Office of Dietary Supplements, CholestOff also contains calcium carbonate, cellulose gel, dibasic calcium phosphate, croscarmellose sodium, acacia, silicon dioxide, hydroxypropyl methylcellulose, magnesium stearate and polyethylene glycol.
How Taken
Two caplets of CholestOff are taken twice daily with water or another beverage. The manufacturer recommends taking the supplement 15 to 30 minutes before meals.
Manufacturer Claims
According to the ODS, Nature Made asserts that CholestOff enhances your cardiovascular health and that the supplement is clinically proven to reduce high cholesterol. However, because CholestOff is a dietary supplement and not a drug, an FDA disclaimer is attached to this product. The FDA hasn't evaluated marketing claims made by the manufacturer to determine whether they're true. Dietary supplements are not intended to treat, cure or prevent any disease or health problem, including high cholesterol. If you have high cholesterol, talk to your doctor first before taking CholestOff or a similar dietary supplement.
Expert Insight
Lee says that eating 2 g of plant sterols or stanols might decrease your "bad" blood cholesterol by between 6 percent and 15 percent; CholestOff gives you 1.8 g. Lee goes on to caution that some people who take CholestOff might experience side effects such as heartburn, nausea, indigestion and diarrhea. Men may experience low libido or erectile dysfunction. Lee points out that prescription statins may work equally as well to control high cholesterol and may be just as cost-effective. A two-month supply (240-count bottle) of CholestOff cost around $20, as of November 2010.
Other Information
MayoClinic.com reports that consuming foods and beverages fortified with plant sterols and stanols is another way to reduce your cholesterol. Sterols and stanols are added to certain brands of margarines, yogurt, orange juice, granola bars and chips. Drinking two cups of fortified juice each day gives you the recommended 2 g of plant sterols, according to the clinic.