Small red bumps on the cheeks can signal a number of skin conditions ranging from mild irritation to more serious skin infections. For minor conditions, treatment typically focuses on eliminating the bumps for cosmetic reasons. However, some conditions, such as severe allergic reaction or infections, require swift medical attention. Contact your physician if you notice any unusual changes in your skin, especially if those changes are accompanied by pain or itchiness.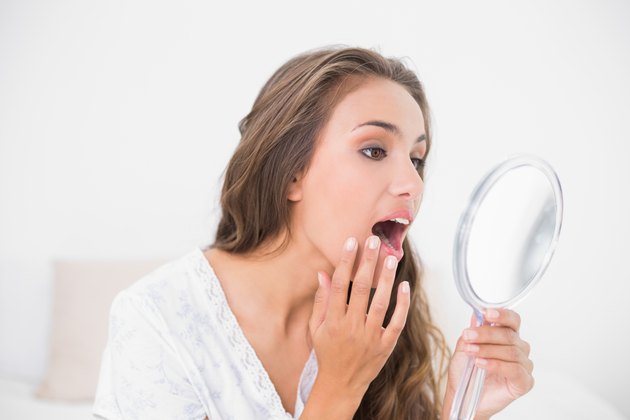 Determining the Cause
Rule out the obvious culprits first, such as acne and skin irritants. If you notice the red bumps after using a new skin product such as soap or moisturizer, discontinue use and see if the bumps go away. A carbuncle, or cluster of boils caused by an infection beneath the skin, can also manifest as small, pea-sized red bumps on the cheeks, according to FamilyDoctor.org. Rosacea is another potential suspect, especially if you also notice visible, small red blood vessels or have a tendency to blush easily.
Diagnosis
Your physician or dermatologist typically diagnoses small red bumps on the cheeks based on your medical history and the presence of other symptoms. Be prepared to tell your doctor about any new products you have used, foods you have recently introduced into your diet and new stressors in your life. If an allergic reaction is suspected, your doctor may perform a skin test to determine the cause. During the test, your physician exposes your skin to a variety of common allergens through small needles and observes for signs of a reaction, according to MayoClinic.com.
Potential Complications
Advanced cases of rosacea can cause rhinophyma, a condition that enlarges your nose and causes puffy cheeks. Men are at higher risk of this complication than women, according to the American Academy of Dermatology. Rosacea can also affect your eyes, which can lead to vision complications if left untreated. Untreated carbuncle infections can potentially spread to other parts of the body, leading to a brain or spinal abscess and sepsis.
Treatment
Treatment depends on the source of the red bumps. Carbuncles need drain before they can heal, according to MedlinePlus; warm compresses may help speed up the process. Your doctor may prescribe a topical or oral antibiotic for a stubborn carbuncle. While there is no cure for rosacea, treatment for flare-ups includes antibiotics, topical medications, glycolic peels or a combination of the three. Both over-the-counter and prescription antihistamines may be prescribed for red bumps related to an allergic reaction.
Prevention
While overall prevention of flare-ups depends on the underlying cause of the red bumps, some measures apply universally. The American Academy of Dermatology recommends practicing good sun protection by limiting exposure and wearing sunscreen when you go outdoors. Avoid drying cosmetics and skin products, such as those that contain alcohol. Stick to a simple routine with products you have successfully used in the past. If you do try new products, use one at a time and note any reactions.