Fats primarily consist of saturated, polyunsaturated, monounsaturated and trans fatty acids. According to the American Heart Association, polyunsaturated and monounsaturated fats are considered healthy fats because they prevent cholesterol deposits, or fatty substances that accumulate on the walls of heart arteries. Saturated and trans fats are considered unhealthy because they encourage the accumulation of fatty cholesterol deposits on the artery walls, which can lead to heart disease, heart attack and stroke. The best way to block fat absorption is to combine regular exercise with a healthy low-fat diet consisting of fruits, soy-based foods and whole grains.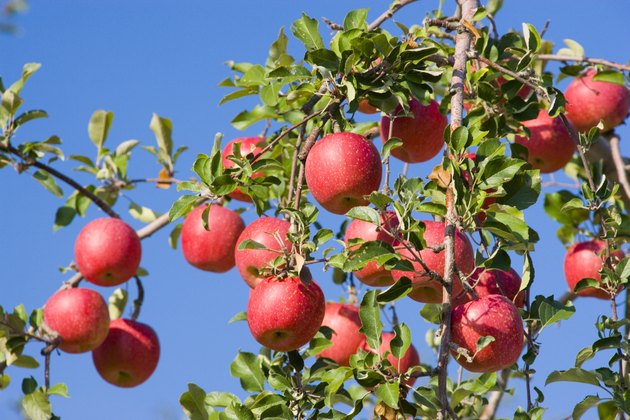 Apples
Apples are good for blocking fat absorption because they contain fiber and a complex carbohydrate called pectin, according to ShapeFit.com. Pectin prevents your body from absorbing large amounts of fats. Eating one to two servings of fruit daily can help you reduce the amount of fat your body absorbs, according to ShapeFit.com. And the website Dietary Fiber Food highlights other fruits that contain pectin, including bananas, grapefruits, oranges and apricots.
Soy Foods
If you are trying to limit the amount of fats that you digest, try consuming soy foods. Soybeans contain high levels of essential fatty acids, vitamins, fiber and lecithin, a nutrient that helps to break down natural fats stored inside of your body, according to ShapeFit.com. In addition, lecithin may help your digestive system break down fats and block the formation of fatty deposits. The Consumer Health Organization of Canada states that some foods that contain soybean include soy milk, dried soybean seeds, soy sauce, tofu, tempeh, soy flour, natto and miso.
Whole Grains
A natural food source that can block fat absorption is whole grains. According to the Harvard School of Public Health, whole grains can lower your risk of heart disease, type 2 diabetes and cancer. MayoClinic.com states that whole grains contain a healthy amount of fiber, which supports healthy bowel movements, aids in weight loss, lowers cholesterol levels and controls blood sugar levels. According to the Harvard School of Public Health, other foods that contain fiber are barley, oatmeal, brown rice, beans, nuts, seeds and whole wheat bread.