The American Academy of Pediatrics recommends you don't have a trampoline at home. That's because jumping on a trampoline can be dangerous if it's done carelessly. As long as you follow reasonable safety precautions, such as using it one person at a time, jumping on a trampoline can be a good form of exercise.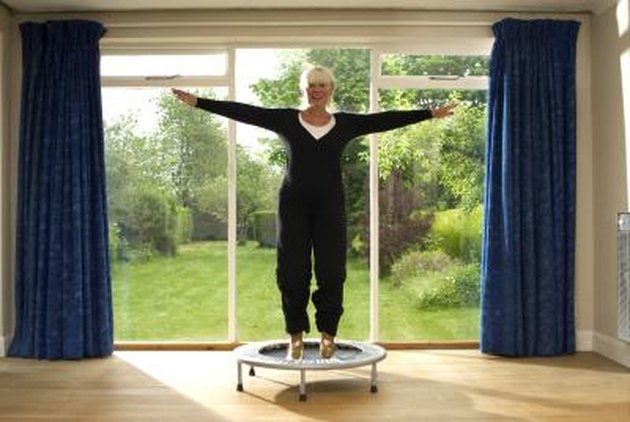 Exercise Intensity
Jumping on a trampoline counts as a moderate level of exercise intensity, according to the Centers for Disease Control and Prevention. That puts it in the same class as calisthenics, light yoga and gymnastics. During a moderate intensity workout, such as walking, you're breaking a sweat but still able to carry on a conversation. During a vigorous-intensity workout, such as jogging, your pulse rate goes up, and you can say only a few words at a time.
Jump Time
It won't help much if you bounce on the trampoline for a few minutes every now and then. For true health benefits, you have to workout on your trampoline for at least 10 minutes at a time, for a total of 150 minutes every week.
Calorie Burn
Calorie burn depends on factors such as overall fitness level, gender, age, exertion level and weight. According to The Fit Day website, a 120-pound woman burns approximately 143 calories per hour jumping. That's comparable to a burn of 151 calories per hour walking according to the Health Status Calculator.