Warts and calluses aren't usually painful, but can be unsightly and annoying. According to the Mayo Clinic, warts are skin growths caused by the human papillomavirus virus. Calluses are hardened layers of skin that develop from the skin trying to protect itself against pressure. Though both problems can be treated with some of the same methods, there are differences in treatment options.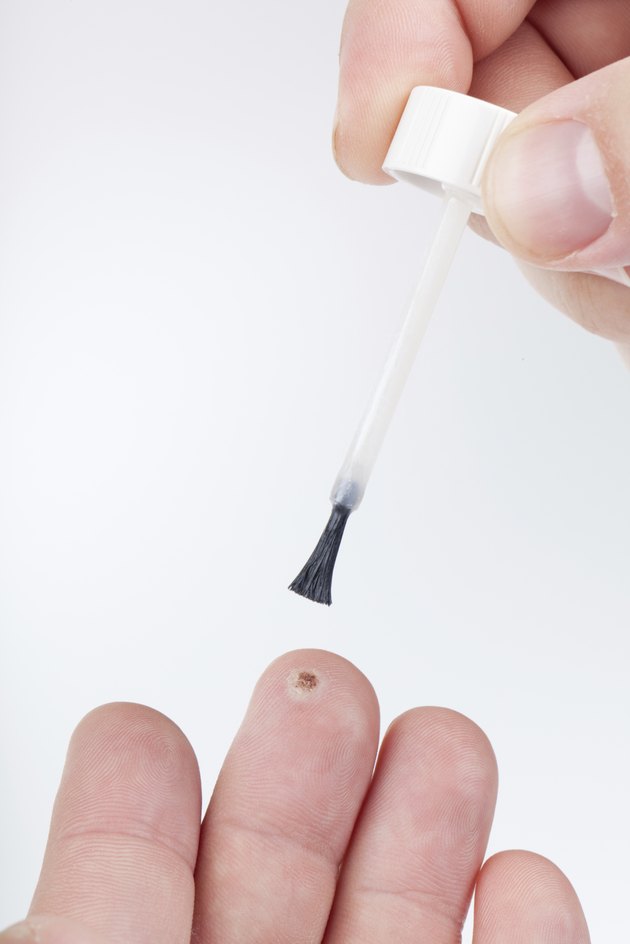 How to Remove a Wart From Your Elbow
Step 1
Visit with your doctor for information regarding the best treatment option for your wart. According to the American Academy of Dermatology, cryotherapy or freezing the wart is generally preferred. The Mayo Clinic notes that this method is usually effective but it does sometimes take multiple treatments. Other common treatment options include cantharidin and minor surgery. The Mayo Clinic says cantharadin involves a chemical mix that creates a blister to remove the wart. Minor surgery involves cutting the wart off using an electric needle, says the Mayo Clinic.
Step 2
Try more advanced options if your doctor recommends it because your wart did not respond to the conventional methods. These treatments include laser surgery, immunotherapy, bleomycin and retinoids. Laser surgery is usually very expensive and can cause scarring, according to the Mayo Clinic. Retinoids and bleomycin are often effective but can cause skin damage, says the Mayo Clinic. The American Academy of Dermatology says immunotherapy tries to use the body's defense system to get rid of the wart. However, stopping the treatments can lead to warts returning.
Step 3
Use home remedies to get rid of the warts. Most wart creams and patches feature salicylic acid as the active ingredient to dry and peel away the wart. According to the Mayo Clinic, the acid can damage skin, but it is sometimes recommended by doctors for more stubborn cases. Another interesting treatment option is duct tape, which the Mayo Clinic says was more effective in one study than cryotherapy. This option involves covering the wart with duct tape for six days, then soaking it in warm water and attempting to scratch or rub the wart off.
How to Remove a Callus From Your Elbow
Step 1
Soak your callus in warm, soapy water to make it easier to remove. Using a moisturizer can also help with this -- moisturizers can also help prevent calluses from forming.
Step 2
Rub the callus with pumice stone or another substance to remove or lessen the hardened callused skin. This procedure can sometimes soften the skin, get rid of the calluses and help keep them away.
Step 3
Talk to your doctor for more advanced treatment options. Common options include trimming, salicylic acid and antibiotic ointment. Trimming involves using a scalpel to cut the thickened skin off, according to the Mayo Clinic. Salicylic acid comes in liquid and patches designed to speed up the skin cycle and get rid of dead skin. Some antibiotic ointments are also effective at helping skin heal and prevent infection, says the Mayo Clinic.