Although your skin provides a layer of protection between your inner systems and the outside world, it can experience problems. Skin conditions, such as red bumps, may show up on any area of your body, including the tops of your feet. The best treatment for skin bumps on your feet depends on the cause of this condition. Your doctor can help you pinpoint the reason for your bumps.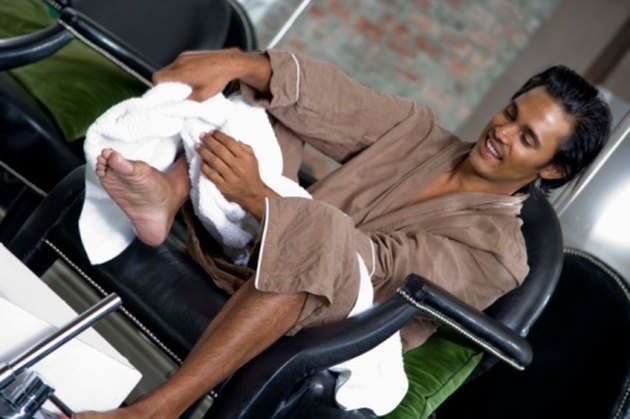 Significance
Red bumps can appear on the tops of your feet in response to local irritants, such as bug bites, or may be part of a general condition, such as diabetes or an allergic response to ingested substances, that affects other parts of your body. The presence of additional symptoms may help determine the cause of your red bumps.
Accompanying Symptoms
In addition to your red bumps, you may experience varying degrees of itching. Certain accompanying symptoms may include intense itching, weight loss, changes in bowel habits, extreme tiredness or fever.
Possible Causes
Spots that extend beyond the location of the skin on your feet may be hives, a skin symptom caused by allergies. Spots that limit themselves to the tops of your feet can have a variety of causes, including folliculitis, psoriasis, boils, warts, dermatitis or insect bites. Scabies, a condition caused by mites, can appear as little red bumps that may resemble pimples, according to the American Academy of Dermatology. Itching usually accompanies this condition. If the spots seem to form around hair follicles on the top of your feet, this can indicate the presence of folliculitis, a bacterial infection within the follicles.
Home Treatments
Keep the area clean by washing gently with a mild cleanser and water. Pat your feet dry with an absorbent towel. Apply an antibacterial first-aid ointment to the area surrounding your spots. If itching accompanies your red spots, apply an over-the-counter hydrocortisone cream.
Medical Concerns
While many cases of red skin spots may disappear on their own, certain conditions require medical treatments. MayoClinic.com recommends you seek medical help if your symptoms last longer than two weeks, especially when self help measures do not provide adequate relief. Your doctor may prescribe antibiotic or antifungal creams to treat your spots.
Is This an Emergency?
If you are experiencing serious medical symptoms, seek emergency treatment immediately.