Progesterone is a steroid hormone manufactured in the body. It is important to a woman's body and beneficial for balancing the effects of estrogen, according to John R. Lee, MD. In menopause, estrogen levels decline by 40 to 60 percent, eliminating the menstrual cycle. Progesterone levels, however, decline in much greater numbers, making progesterone creams beneficial for replacing lost progesterone, protecting the bones against osteoporosis and balancing hormone levels. An alternative to progesterone pills, progesterone creams are thought to offer the same benefits without the drug interactions that can occur when various medications are taken. Side effects of progesterone creams include disruptions in adrenal hormones, weight gain, headaches, nausea, sleepiness and breast tenderness.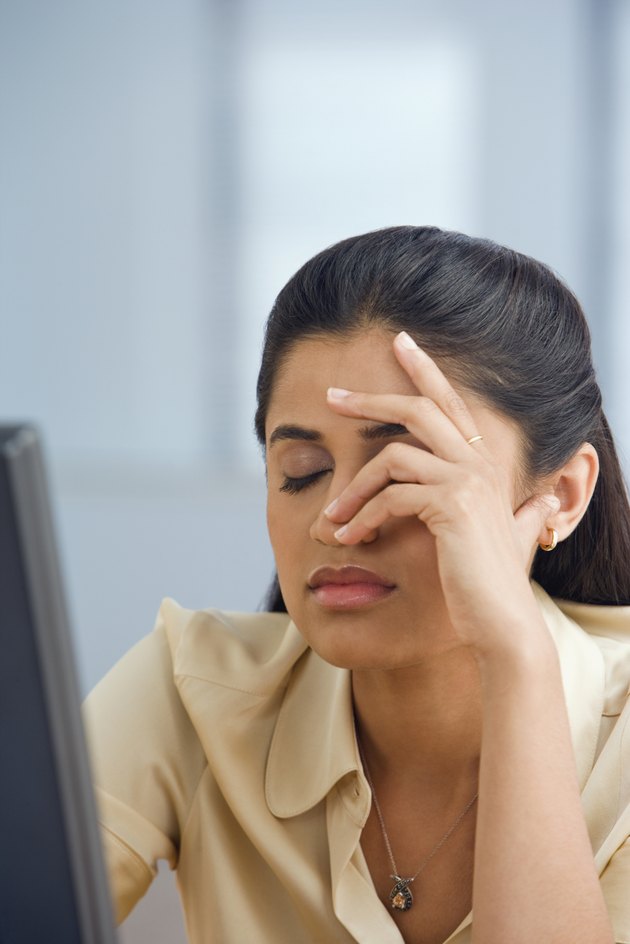 Disrupts Adrenal Hormones
Progesterone creams are generally safe and effective, decreasing risks of breast cancer, improving premenstrual symptoms and regulating a woman's cycle. However, too much of the hormone can create problems, leading to unwanted side effects. Because progesterone is highly fat-soluble, when applied topically the cream can be stored in a woman's fat tissues, accumulating in undesirable amounts and ultimately disrupting other hormone functions. For this reason, lower-dose creams may be more beneficial.
Headaches, Nausea and Breast Tenderness
Progesterone cream and other hormone replacement therapies can be helpful for relieving symptoms of menopause, such as reducing hot flashes, irritability, night sweats and sleep disturbances. However, increased risks of other complications such as bloating, breast swelling and tenderness, headaches, mood changes and nausea are possible, according to WomensHealth.gov.
Weight Gain
Weight gain is another symptom that can occur with the use of progesterone creams, due to its fat-soluble action. The weight gain is likely to be moderate, however, and can be helped by using only small doses of the cream and paying attention to lifestyle factors that could increase weight, such as diet and sleep and exercise habits.
Sleepiness
Sedative effects may be apparent in some women with the use of progesterone creams. While helpful for women experiencing sleep disturbances related to menopause, those who are active may find this bothersome.