If you have flaky, peeling skin on your eyelids, it is likely caused by a skin condition known as blepharitis, according to the University of Michigan's Kellogg Eye Center. See your doctor for testing to get a proper diagnosis and decide on a treatment plan. While blepharitis is not a serious condition, it can be chronic and irritating.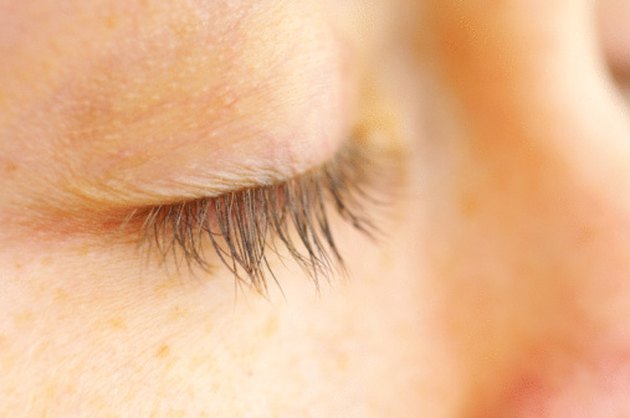 Appearance
Blepharitis appears as dry skin on and around your eyelid. If you suffer from blepharitis, the skin on your eyelids will look swollen, red, flaky and crusty. MedlinePlus states that dry skin scales may fall off of your eyelids and hang from your eyelashes while you are suffering from blepharitis.
Symptoms
The skin on your eyelids may be itchy and burn during a blepharitis outbreak, according to MedlinePlus. Your eyelashes may fall out more frequently than normal, and you may feel like you have foreign debris in your eyes.
Causes
Blepharitis is most often caused by bacterial overgrowth on the skin of your eyelids, according to MedlinePlus. When your eyelids produce an abundance of oil, your skin is more likely to become infected by large amounts of bacteria. Blepharitis can also be caused by an allergic reaction or a lice infestation.
Treatment
If you think you have blepharitis, see your eye doctor. She can prescribe washes and topical treatments that you can use on your eyelids to stop the flaky, peeling skin. In some cases, your doctor may also prescribe oral antibiotics to help clear up the infection.
Expert Insight
The University of Michigan's Kellogg Eye Center states that you must follow a cleansing routine at home in addition to using prescription treatments to combat blepharitis. First, hold a warm washcloth over your closed eyelids to loosen flaky skin. Then dip a cotton swab in a mixture of 2 to 3 oz. water and three drops of baby shampoo and rub the swab along your eyelid to further remove crusty, dried skin. Repeat this cleansing process twice a day until your treatment is complete.