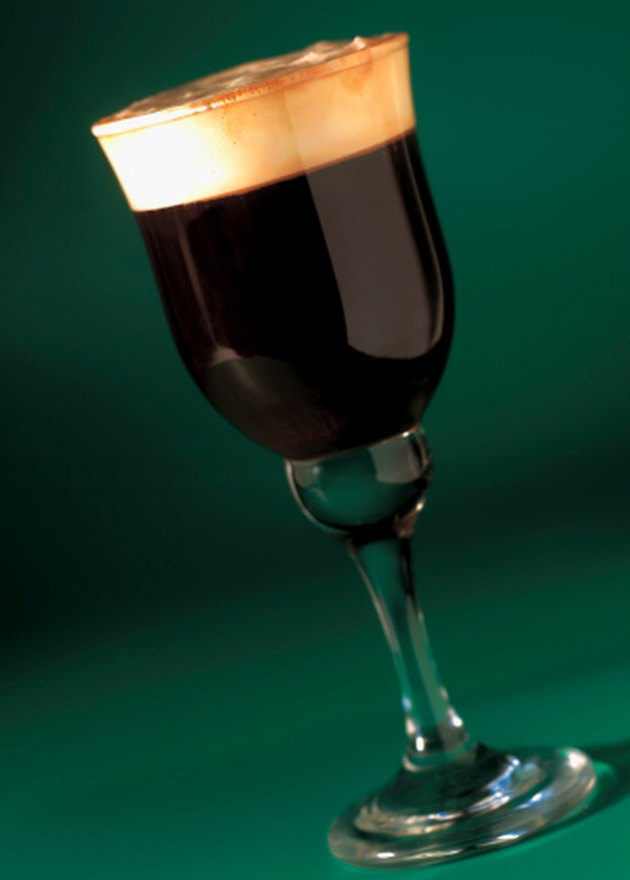 Coffee liqueurs taste sweet but aren't always friendly to your waistline -- even when you drink them on the rocks or in no-calorie coffee. You up your calorie count even more when you mix this liqueur into certain cocktails.
Identification
A 1-oz. shot of coffee liqueur has about 125 calories. A more typical 1.5-oz. shot nets you 188 calories. That's 6 percent of your daily calories per serving for a 1-oz. shot, or 9 percent of your daily calories in a 1.5-oz. shot, based on a 2,000-calorie diet. You can find coffee liqueur in flavored varieties as well, such as vanilla or chocolate. Depending on the liqueur's brand and the flavor, the flavored version may have more or less sugar than the regular variety, which will change the calorie count slightly.
Considerations
Coffee liqueur is higher in calories than distilled alcohols shot for shot. A shot of rum or vodka will add 65 calories per 1-oz. shot to your daily count compared to the 125 in the liqueur, according to the College Drinking Prevention website.
Warning
Making a cocktail with a coffee liqueur can up your calorie count considerably. Take the popular black Russian, for example. A 4-oz. serving has about 326 calories. Make it into a white Russian with 1 tbsp. of half-and-half and you add another 20 calories.