Ingrown nails can occur anywhere on the body. But when the nails develop on the thumb, they can be very painful and difficult to tolerate while continuing through your daily routine. Depending on the severity of the ingrown nail, you may be able to wait it out, but in some cases treatment and even medical attention may be required.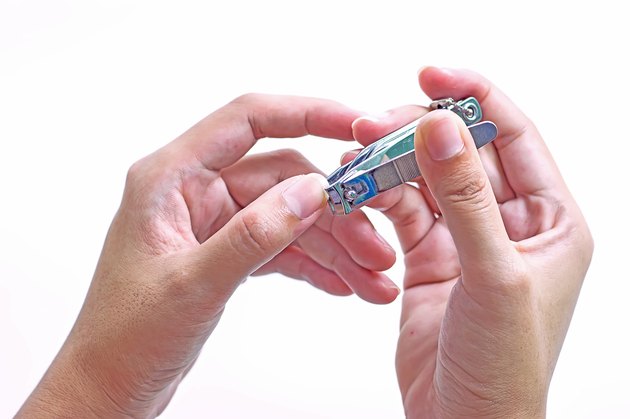 Cause
Ingrown nails can occur for many reasons. Although they are more common on the feet, they can occur on your fingers when you cut your nails too short or don't cut them straight across, making it easier for the nails to curve and grow into the skin. Injuries to your thumbs can also cause the nail to grow in to the flesh of the finger, and if your nails are unusually curved, this can increase the risk.
Symptoms
An ingrown thumb nail can be identified by pain, swelling and tenderness along at least one side of the thumbnail. The flesh around the nail may also be red, and the corners of the nail could be buried deep in the flesh, sometimes completely obscured from view. You may also develop an infection at the point where the nail cuts into the skin, causing pus to develop and sometimes ooze from the location.
Risks
While an infection poses a considerable risk on its own, according to the MayoClinic.com an untreated and deep ingrown thumb nail can have further effects -- if it penetrates down to the bone, it can cause a serious bone infection. The risks are even greater for individuals with diabetes and poor blood circulation, since the infection will be tougher to combat.
Treatment
Ingrown nails that are minor in their severity can often be treated at home in hopes that they will correct themselves over time. You should soak your nail in warm water and apply an antibiotic cream to the location to prevent an infection. Continue with this treatment until redness develops or you notice pus.
Considerations
In some cases, you may need a doctor to properly treat the condition. The nail may need to be surgically cut to reduce the stress on the skin and flesh. You may also be given topical or oral antibiotics to combat an infection. In the future, cutting your nails straight across can greatly reduce your risk of developing ingrown nails.