Regular exercise is important for good health, so itching severely every time you work out isn't merely a nuisance, it can interfere with your ability to keep fit. Exercise-related itching isn't uncommon and particularly affects boys and men ages 10 to 30, note experts from the New Zealand Dermatological Society. Adjusting your workout routine or taking medication may help you control the condition so you can exercise comfortably.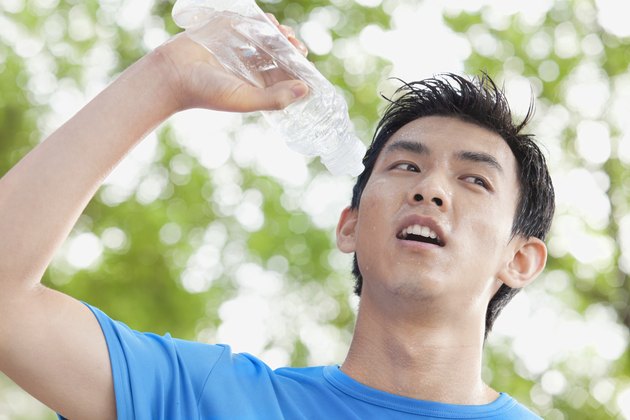 Cholinergic Urticaria
The allergic reaction known as cholinergic urticaria can make your skin itch shortly after a workout. A cholinergic urticaria reaction begins with itching, tingling or warmth followed by an extremely itchy rash and numerous tiny bumps, or weals. This rash usually appears on the upper chest, neck, arms and legs within 30 minutes of exercise. It may stay in one area or spread to the whole body. This may last minutes or days but usually lasts around 80 minutes.
Causes
As little as a 1 degree C, or 1.8 degrees F, rise in body temperature resulting from exercise, strong emotions, hot baths or saunas can trigger an outbreak of cholinergic urticaria. An allergic reaction to sweat produced at these times causes the body to release histamine, a substance that dilates blood vessels, causing skin swelling and itching. When you scratch, your body releases even more histamine, worsening the itching.
Prevention
You may be able to prevent outbreaks of cholinergic urticaria by working out in a cool, dry location or exercising less intensely. Pre-empting an outbreak may also be possible. When you feel your skin start to itch, stop exercising and cool off as quickly as you can.
Treatment
You can treat an outbreak of skin itching from exercise with an over-the-counter antihistamine like diphenhydramine or chlorpheniramine, advise experts from San Francisco State University. If you can't avoid heat or physical activity, your health care provider may recommend or prescribe an oral antihistamine you can take regularly. Prescription beta-blockers may be another option. Although the course of this condition is unpredictable, it usually improves gradually and disappears on its own within a few years.
Warning
Some individuals with cholinergic urticaria may have more severe symptoms. If you experience tightness in your chest or throat, trouble breathing or lightheadedness, get medical help immediately. These symptoms may be life threatening. For safety reasons, work out with a partner who can get help if needed.
Other Causes of Itching
Fungal and yeast infections also lead to itching during a workout. Jock itch, sometimes called tinea cruris or ringworm of the groin, is a common fungal infection in men that causes an annoying itch while working out. Athlete's foot -- also caused by a fungal infection -- will flare up during a workout if you're wearing shoes. The National Institutes of Health note that it's not uncommon for athlete's foot to occur at the same time as other fungal infections such as jock itch. A Candida infection -- a yeast-type fungus that commonly infects the skin -- occurs in warm, moist, areas such as the groin, armpits and under the breast. As your body temperature rises during your workout, a Candida infection can cause itching.