A red, itchy scalp is not only annoying, it can also be flaky, painful and sore. According to MayoClinic.com, a red, itchy scalp is most commonly the result of two distinct scalp conditions. Seborrheic dermatitis and scalp psoriasis are often difficult to differentiate, as they are two disorders that share many similar symptoms.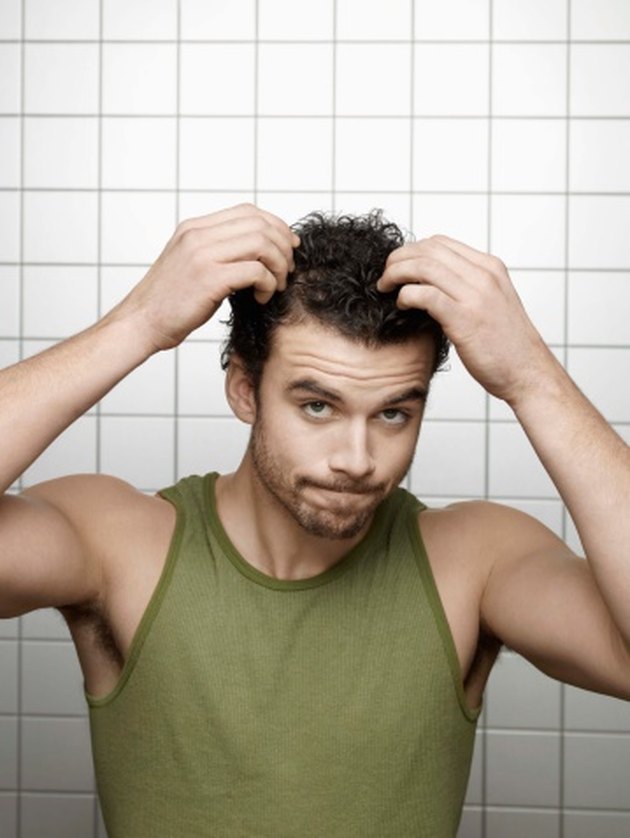 Symptoms
Scalp psoriasis is a relatively common skin disorder. According to the National Psoriasis Foundation, half of all people who suffer from psoriasis have it mainly on their scalps. The symptoms can vary from person to person, although most people experience red patches that develop into itchy, white scales that resemble dandruff and that can become sore or bleed if you remove them or scratch them open.
Seborrheic dermatitis shares many of the symptoms of scalp psoriasis, such as red skin, scaling, itching and soreness. However, unlike scalp psoriasis, seborrheic dermatitis usually causes oily, greasy patches, instead of the dry, flaky patches. According to MayoClinic.com, the patches of seborrheic dermatitis can develop into yellow or white scales that often form a crust. The itching from seborrheic dermatitis may be severe at times.
Causes
Scalp psoriasis is caused by a malfunctioning trigger in the immune system that causes your body's T-cells, which normally fight infections, to attack healthy cells. This inevitably causes an increased turnover of dead skin cells, resulting in the scales and plaques. Hereditary factors are believed to play a role, according to MayoClinic.com
Seborrheic dermatitis is also caused by hereditary factors, although environmental factors may also play a part, according to MayoClinic.com. It occurs more frequently among people with oily hair.
Prescription and Over-the-Counter Treatments
If you suffer from scalp psoriasis, your doctor may recommend a variety of treatments to help manage and alleviate your condition. According to MayoClinic.com, over-the-counter shampoos containing coal tar or topical creams or lotions containing salicylic acid or corticosteroids are generally effective for treating mild cases of scalp psoriasis. If your condition is severe, your doctor may also prescribe several medications, including topical anthralin, which helps to remove the scales or topical retinoids to decrease inflammation.
Seborrheic dermatitis is generally treated with medicated shampoos containing specific ingredients. According to MayoClinic.com, the most beneficial ingredients for treating seborrheic dermatitis include ketoconazole, tar, selenium sulfide and salicylic acid. If your condition doesn't respond to medicated shampoos, you may need to consult a dermatologist to obtain a stronger medicated shampoo or steroid lotions.
Alternative Treatments
In some cases, your doctor may also recommend a form of treatment known as light therapy, in which you expose your skin regularly to UVA and UVB light. This technique can be used on patients who suffer from both scalp psoriasis and seborrheic dermatitis, according to MayoClinic.com. It is performed using lasers or other forms of artificial light. You can also expose your head to natural sunlight, but you should consult your doctor first. Prolonged exposure to sunlight can actually aggravate scalp psoriasis.
Warning
If your scalp is bleeding, painful, inflamed or irritated, consult a dermatologist or your doctor as soon as possible, especially if you've never been diagnosed previously with scalp psoriasis or seborrheic dermatitis.