Fingernails and toenails are living skin cells. Nails protect and support tips of the fingers and toes, and they help humans scratch an itch, tie a knot and pick up small objects. Nail growth is affected by illness or poor health.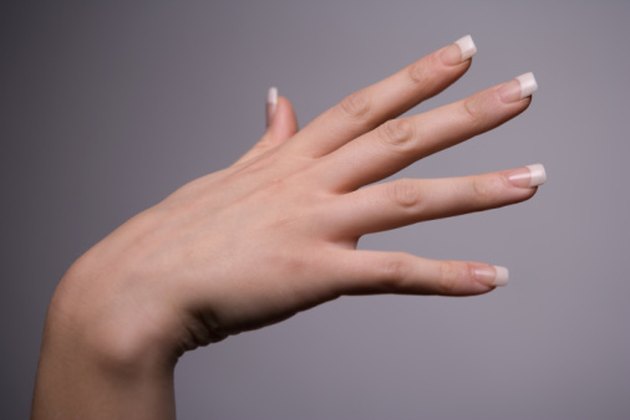 Nail Formation
According to Kids Health, nails grow when epidermal cells below the root of the nail move toward the skin's surface and increase in number. The cells flatten and compress, eventually transforming into a plate, which becomes a layer in the fingernail or toenail. The cells continually accumulate at the base of the nail, pushing the older ones forward, resulting in nail growth. Fingernails grow three to four times faster than toenails, and all nails grow more slowly in the winter than in the summer.
Types of Pigmentation/Discoloration
Medline Plus reports healthy nails will usually appear smooth and have consistent coloring. If discoloration of the nail occurs, the first thing to do is consider the color. Some types of discoloration in nails can indicate kidney, heart, lung, liver or kidney disease, and may sometimes suggest anemia or diabetes. However, the more common white spots in nails, as well as vertical ridges often found in nails, are no cause for alarm if they quickly grow out. See a doctor if the spots persist.
The American Academy of Dermatology reports the following conditions sometimes indicated by nail pigmentation and discoloration: white nails indicate liver disease. If half of the nail is pink and half is white, it may indicate kidney diseases. A red nail bed might indicate a heart condition. Yellow, thickening nails may reveal lung diseases. Pale nail beds might be caused by anemia, and diabetes is sometimes signaled by yellowish nails with a "slight blush at the base."
Other Causes of Dark Pigmentation
Dr. Rowen Santos, of MedHelp, defines longitudinal melanonychia as "the presence of a pigmented stripe, usually brown or black, along the length of the nail bed in darner-skinned individuals." The pigmentation is caused by melanin deposits in the nail plate. In Caucasians, says Dr. Santos, the presence of this stripe may indicate one of many diseases or conditions, including cytotoxic drug effects, pituitary tumors, vitamin B12 deficiency associated with malnutrition, Hutchinson's or Addison's disease, fungal infection, subungual malignant melanoma or scleroderma.
Doctors Halioua, Patey, Maelanin and Lafaix, presenting at the International Conference on AIDS, also found some patients with HIV infections who are taking the drug Zidovudine report patterns of nail pigmentation, although some patients who were not taking the drug also presented with nail pigmentation.
When to See a Physician
The American Academy of Dermatology says as people age, their nails are more prone to infections. Medication use and circulatory problems contribute to the development of nail conditions. If you notice white spots, which are most often caused by a mild trauma to the nail, wait to see if they grow out. If they don't, or if you notice many new spots and don't recall hurting the nail, see a dermatologist to rule out a medical condition or infection. Splinter hemorrhages are fine vertical lines that are reddish-brown and resemble a splinter under the nail. Usually these are a result of nail injury but they should be checked by a doctor.
See a dermatologist if you notice nail dents or ridges, swollen skin or pain around the nails, white or black lines in the nail, or changes in the shape or color of your nails, says the American Academy of Dermatology. If you see a dark streak or spot on your nail and have not recently injured that nail, seek an examination immediately. This could indicate the most lethal form of skin cancer -- melanoma.
Nail Care
To take care of nails and prevent fungal infections or other problems with nails and/or cuticles, FamilyDoctor.org suggests the following: keep nails short, don't share nail trimmers between infected and healthy nails, bring your own files and clippers to the nail salon, wear 100 percent cotton gloves when doing dry work and put on waterproof gloves when washing dishes or performing other wet work. Protect toenails by wearing 100 percent cotton socks, change your socks if your feet become wet or damp from sweating, and use antifungal foot powder sprinkled inside your socks to ensure dry feet. Finally, wear well-fitting shoes that give toes room to spread apart, and don't walk around barefoot in locker rooms or other public areas.
The Mayo Clinic adds you should avoid biting your nails, picking at your cuticles and pulling off hangnails. They also recommend every time you moisturize your hands, rub lotion into your nails as well. Last, take 2.5 milligrams of biotin supplement daily to increase nail thickness.