Skin often changes color or texture in response to a loss of moisture or hormonal shifts. Dark, flaky patches of the skin can relate to a multitude of possible causes, including viral infections. However, dark patches of skin around the breast that grow or continue to change shape require an immediate visit to your physician, as they may be the early signs of cancer.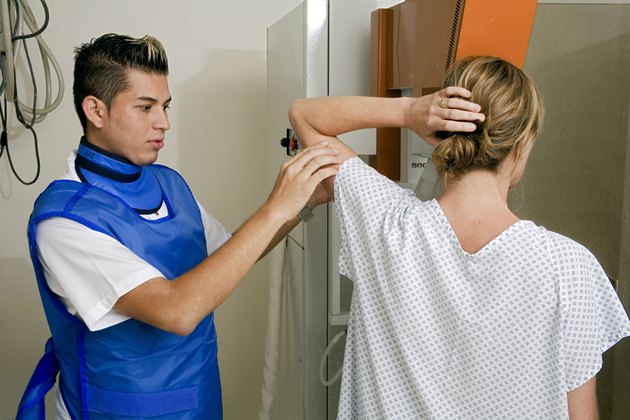 Identification
Certain skin irritations manifest as dark, flaky patches that occur anywhere on the body, as well as the breast. These include verrucae, commonly known as warts, which the human papilloma virus causes. Characterized by dark pinpoint spots and raised callouses, warts result from contact with an infected individual. Dark, flaky breast skin may relate to melasma, a skin condition connected to hormonal changes, according to the online skin care resource Skin Sight. Melasma worsens in the presence of increased amounts of estrogen, as in during pregnancy.
Types
Should the dark, flaky patches of skin on the breast change, perhaps expand in size or appear clustered around an existing mole, they may indicate the early stages of melanoma, or skin cancer. Basal cell carcinoma accounts for 80 percent of all skin cancer diagnoses, and often appears as a dark, raised patch on sun-exposed skin, including the chest and the breasts. Squamous cell carcinoma emerges as crusty, scaly areas of skin that don't heal. In cases of breast cancer, often flaking or peeling will occur on the skin of the nipple, and the flaky skin will be accompanied by a lump and redness, according to the Centers for Disease Control and Prevention.
Considerations
The skin is a living organ which can be affected by any number of internal or environmental factors, therefore dark, flaky patches on the skin of the breast do not automatically equate to malignancies. However, it is time to see your doctor if bloody discharge emerges from the nipple, if the nipple turns in on itself, or if the dark patch bleeds or crusts over.
Prevention/Solution
Given that there are so many possible triggers for dark, flaky patches around the breast, it is best for your physician or dermatologist to determine the cause first, upon which he or she can suggest preventative measures. In general, sun damage and skin cancer are closely related, so protect your skin from the sun by using a broad spectrum sunscreen with minimum 30 SPF, and avoid outdoor tanning as well as tanning beds and sunlamps. Also, regular mammogram screenings, especially for women over 40, can help catch breast cancer early.
Warning
Never allow fear to delay action in cases where the dark, flaky patch around the breast changes or bleeds. Both skin cancer and breast cancer have high survival rates. According to the American Academy of Dermatology, the skin cancer survival rate is 95 percent, when discovered in the early stages. Early detection is paramount, so see your doctor or health care provider without hesitation.
Is This an Emergency?
If you are experiencing serious medical symptoms, seek emergency treatment immediately.