Psoriasis is a chronic skin disease that comes and goes. It seems to go into remission and then gets worse for no apparent reason. The patchy, dry, red areas of skin can range from mildly irritating to debilitating. A variety of over-the-counter, or OTC, medications are available for treatment as well as light therapy and home remedies. The following list includes some of the top OTC remedies recommended by Mayo Clinic staff.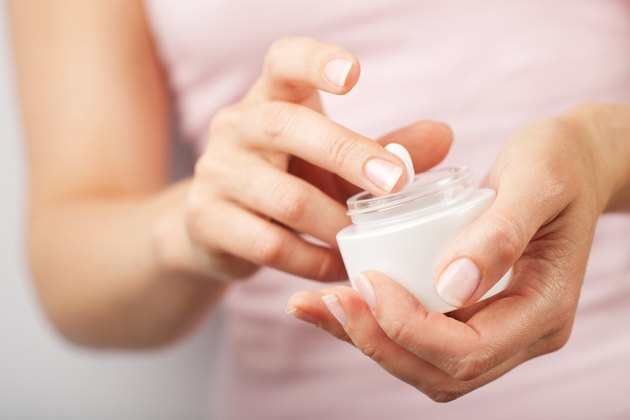 Corticosteroids
Corticosteroids applied topically to active areas of psoriasis can slow the hyper-generation of skin cells by suppressing the body's immune system. That in turn helps stop the itching and inflammation of the disease. It is available in a variety of strengths and formulas for sensitive areas, such as around the face and genitals, to scalp formulas. Cleveland Clinic staff recommend brands like Cortaid and Cortisone 10t.
Vitamin D Cream
Vitamin D cream in synthetic form also slows the growth of skin cells to reduce the itching and pain of psoriasis. It is available in various forms such as Harvest Moon Supplements BioEntopic Natural Vitamin D3 Creme.
Anthralin
Mayo Clinic staff members say anthralin normalizes DNA activity in skin cells to bring relief to the psoriasis sufferer. According to Skin Therapy.com, anthralin is available as Dithrocream in solutions from 0.1 percent to 0.5 percent, DithrocreamHP 1 percent, Dithroscalp 0.25 percent and 0.5 percent and Micanol 1 percent. Topical use may permanently stain clothes.
Vitamin A Cream
Vitamin A cream also slows skin cell growth and eases itching and pain. Retinol A Cream is an example of an OTC form of the cream, which is also used as an "anti-wrinkle" cream
Moisturizers
Moisturizers help slow scaling, improve dryness and lessen itching. Some common forms of moisturizers include Vaseline and Aquaphor.
Salicylic Acid
Salicylic acid is available in OTC form as a 2 to 10 percent solution in Petrolatum. Skin Therapy.com warns too much of the drug can be toxic and should not be applied to large areas of skin.