The adrenals are two small glands that sit on top of each kidney. They are responsible for managing blood sugar levels, regulating the balance of salt and water, and controlling sexual maturity. The adrenal glands also come to the rescue when a person is under stress. If a person is in a constant state of physical or emotional stress, the adrenals become fatigued and stop functioning optimally. This is known as adrenal fatigue or exhaustion. Signs of poorly functioning adrenals are fatigue, dizziness, inability to cope with stress and low stamina. Certain foods can help heal your adrenal glands.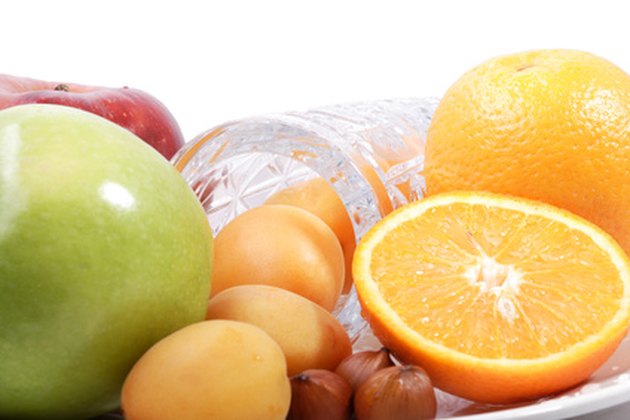 Foods Rich in Vitamin B
All the B vitamins are necessary for adrenal function, especially B5 or pantothenic acid; the adrenals will not function properly without pantothenic acid. The B vitamins enhance the activity of the adrenal glands and also increase energy levels during times of stress. A pantothenic acid deficiency can cause your adrenal glands to actually shrink and, therefore, not perform optimally. Foods high in vitamin B are beef, tuna, oats, turkey, Brazil nuts, bananas, potatoes, avocados and legumes. In the book "Prescription for Nutritional Healing," Phyllis A. Balch states that pantothenic acid is essential for adrenal disorders. Supplementing with this vitamin may prove beneficial.
Foods Rich in Vitamin C
Vitamin C is extremely valuable for many functions in the body, such as immunity, cardiovascular health, skin disorders and proper adrenal gland function. The adrenals require this nutrient to produce cortisol, the stress hormone. High amounts of vitamin C are stored and used in the adrenal glands, but during times of stress, levels of this nutrient seem to drop much quicker than normal. Foods high in vitamin C include citrus fruits, berries, peaches, mangoes, broccoli, Brussels sprouts, spring greens and tomatoes. Vitamin C supplements may also be helpful.
Foods Rich in L-tyrosine
L-tyrosine aids in adrenal function by relieving excess stress put on the glands. Sources of tyrosine can be found in most meat and vegetables. Foods high in tyrosine include fish, chicken, pork, whole grains, wheat, oats, dairy, avocados, bananas, legumes, nuts and seeds. L-tyrosine is also available in supplement form and is recommended in "Prescription for Nutritional Healing."
Considerations
By adding these foods to your diet, you are giving your body the nutrients needed to heal your adrenals naturally. To help reduce further stress on the adrenal glands, consider a low-sugar diet and one sufficient in protein, fat and complex carbohydrates. Try to eat smaller, more frequent meals throughout the day. Also avoid white flour, sugar, sodas, refined foods, caffeine, alcohol, smoking and environmental toxins. Learn to relax, avoid stress and exercise regularly; moderate exercise helps stimulate the adrenal glands. In addition, milk thistle extract aids in liver function, which in turn helps adrenal function, according to "Prescription for Nutritional Healing". Always consult your physician before taking any herbs or supplements.