Ringworm is a fungal organism easily transmitted from one infected host to another. You can prevent the spread of ringworm to other areas of the body and prevent the fungus from affecting another host.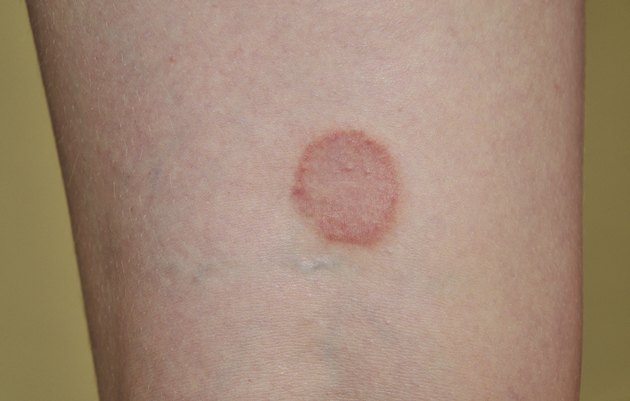 How to Prevent the Spread of Ringworm
Step 1
Avoid contact with others who have ringworm, including contact with unaffected areas of the skin. Ringworm infects an area on the skin by entering cuts, wounds and other skin abrasions. The germs from ringworm may lie on other areas of the skin that are unaffected, waiting for the opportunity to enter a host again. Touching another person or animal affected with ringworm may transfer the germs onto your skin, where the fungus patiently waits for the opportunity to enter a wound or abrasion on your skin.
Step 2
Wash your hands after using the restroom. Scrub your hands for at least 10 seconds before rinsing the soap off, and dry your hands thoroughly before leaving the restroom.
Step 3
Dry your body thoroughly after bathing. Wet feet especially implant moisture on carpets where fungus grows.
Step 4
Apply antifungal powder to your feet after bathing and after a workout. Antifungal foot powder dries up moisture on your feet where perspiration occurs during a workout. If you have reoccurring episodes of ringworm, apply powder after bathing as part of your daily hygiene habits and have the family or other household members use antifungal powder to prevent the spread of ringworm in the home.
Step 5
Clean your house regularly, especially bathrooms, carpets and floors with an antiseptic household cleaner. Include floorboards and corners where cobwebs and dust collect. Look for cleaners that disinfect staph and influenza germs for use in the bathroom, as ringworm is a combination of many organisms that mutate from congregating with other germs.
Step 6
Use your own hairbrush, toothbrush, clothes, towels and other personal hygiene items. Ringworm, among other fungi looking for hosts, often manifests on personal hygiene items where your body fluids and moisture collect.
Step 7
Wear clean clothes and consider using a powder appropriate for use around your groin. Change your clothes daily, especially underwear, socks, hosiery and other undergarments. Jock rash or jock itch is a type of ringworm that occurs around the groin. If your clothes frequently rub on your skin, and you perspire often, a personal hygiene powder may prevent skin abrasions and dry up moisture, averting the chance for ringworm to invade the groin area. For added protection, choose cotton fabrics or cotton blends over fabrics that do not breathe well, such as polyester, so moisture can evaporate better. See Resources for powders available for men and women.
Things You'll Need
Clean clothes

Soap

Anti-fungal foot powder

Body powder
Tip
Avoid tight-fitting clothes to prevent clothes from rubbing against the skin, including breathable fabrics such as cotton. DuPont manufactures Supplex, a fabric that stretches well like polyester, yet breathes well like cotton. Supplex fabrics are excellent choices for wear anytime, especially when choosing active wear. Supplex fabrics are more expensive than other fabrics, but the benefits may outweigh the costs.
Always keep the area of the skin affected with ringworm covered with a bandage to prevent the ooze and germs from spread to other areas. Change your bandage daily and wash your hands after applying the clean dressing.
Consider using only foot powder to prevent fungus, over anti-fungal foot sprays. Powder helps to prevent the foot from rubbing against your shoes, so blisters do not occur. Blisters pose an opportunity for fungus to invade, once the blister pops open.
Warning
Do not be afraid or embarrassed to talk about ringworm with your family. Let household members know you have an outbreak.