An allergy to mustard is an uncommon food allergy. Common foods that cause an allergic reaction include: fish, shellfish, wheat, soy, milk, tree nuts, peanuts and eggs, according to MedlinePlus. If you develop common allergy-related symptoms after eating mustard, you should make an appointment with an allergist to confirm or dismiss the possibility of an allergy. In order for a diagnosis of a mustard allergy, the allergist must determine that your immune system creates immunoglobulin E, or IgE antibodies when your body is exposed to mustard, according to the American Academy of Allergy, Asthma and Immunology.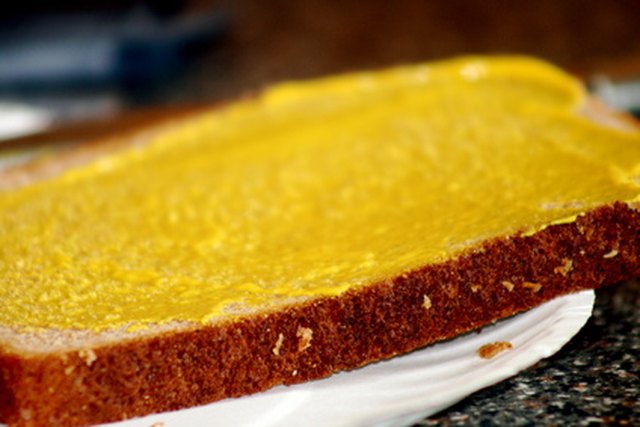 Mustard Allergy
If you're allergic to mustard, your body reacts to the proteins in the food product as if they are unsafe. Although the proteins are harmless to your body, your immune system overreacts as if it is under attack. The body responds by creating IgE antibodies, complex proteins that are intended to fight against the mustard proteins. During the production of these antibodies, mast cells in the body respond by producing histamine. Histamine causes swelling and inflammation in soft tissue in the body, leading to common symptoms.
Consideration
Just because you experience adverse reactions after consuming mustard does not mean that you are allergic to it. Another possible condition that can cause similar symptoms to that of a food allergy is food intolerance. MayoCilnic.com explains that the two conditions are commonly confused because of similar symptoms, such as gas, bloating and diarrhea. Food intolerance is a malfunction of the digestive system to produce the appropriate enzymes needed to digest the mustard. Your doctor can determine the difference.
Allergic Effects
A mustard allergy will affect the sinuses, the lungs, the digestive tract and the skin. Shortly after eating mustard, your sinuses can become congested and you may develop a runny nose, sneezing or postnasal drip. Your lungs can become inflame, causing shortness of breath, difficulty breathing, wheezing, chest tightness, coughing and other asthma symptoms. Your skin can become irritated and inflamed, causing swelling and redness. Common skin rashes from a mustard allergy include eczema and hives.
Treatment
The most effective treatment for a mustard allergy is to receive a clinical diagnosis and avoid consuming mustard, according to MedlinePlus. If you accidentally consume mustard, antihistamines may help treat minor allergy symptoms, such as a runny nose, skin irritation and nasal congestion. Severe allergic reactions may require an epinephrine shot to alleviate symptoms.