Even if they don't itch or hurt, bumps on your forehead can be a nuisance due to their highly visible location. The most likely cause of small bumps on your forehead, according to the American Academy of Dermatology, is acne. Failing to properly treat and care for your skin can make the inflammation worse and even cause permanent scarring.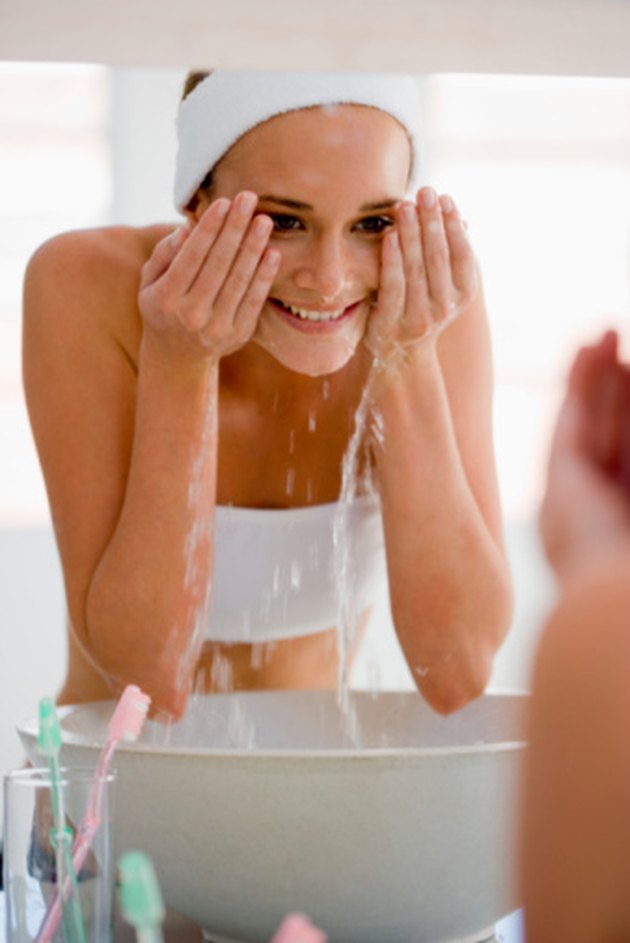 Acne
Excess oil along your hairline can clog your pores and cause minor inflammation, which initially appears in the form of small bumps called whiteheads or comedos. If the inflammation worsens, it can cause pimples, pustules, which are fluid-filled pimples, and even painful skin cysts, the most severe type of acne lesion. Acne commonly appears on your forehead and other parts of your face, as well as your back, neck, chest and shoulders, since these areas have the largest number of oil glands.
Other Possible Causes
Certain illnesses, like measles or lupus, can cause a red, bumpy rash on your forehead. The rashes associated with these illnesses usually spread to other areas of your body instead of remaining localized to just one place. You will also experience other symptoms along with the rash, such as fever or achy joints. The rash associated with lupus usually extends across the cheeks of the face and along the nose and forehead in a "butterfly" shape. If you suspect an illness as the cause of your rash, or if you experience fever or itching, contact your primary health care provider.
Treatment
Acne medications can reduce oil production, decrease inflammation, fight bacterial infection and speed up the healing process. Your doctor might prescribe topical medications to improve your acne, oral medications or a combination of both. If your acne is mild, you can also try over-the-counter treatments. According to MayoClinic.com, these treatments are generally safe and effective at clearing up minor breakouts, such as whiteheads. The American Academy of Dermatology cautions that no medications will instantly clear up your whiteheads. Acne treatment usually takes four to eight weeks.
Prevention
Although you cannot prevent all acne breakouts, you can take steps to keep whiteheads under control. Wash your forehead and other acne-prone areas twice a day with a gentle cleanser. Keep your hair off your face and away from your forehead. When using hair products, shield your forehead with your hands so that the products do not get on your skin. Avoid heavy foundation makeup and choose light, powder-based cosmetics that are less likely to clog your pores.