There are two types of cholesterol spots in eyes. The most common type, called xanthoma, are soft, yellow bumps visible on the eyelids. These spots are not harmful. The second, more serious type of cholesterol found in the eye -- cholesterol embolus -- can only be seen on the back of the eye using specialized equipment.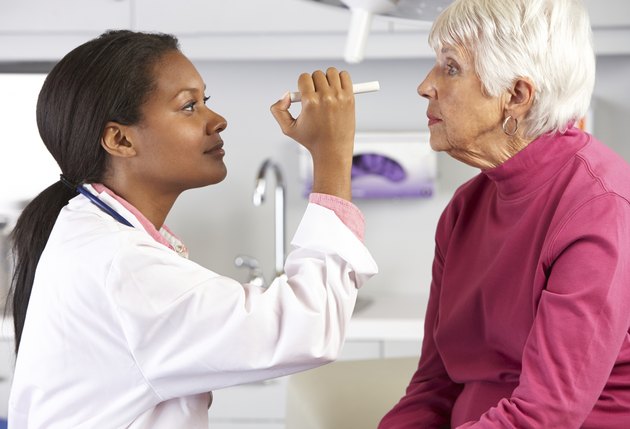 Xanthomas
Xanthomas are cholesterol spots composed of fatty deposits that build up under the skin and are common in people with high blood lipids. Xanthomas are neither harmful or contagious but can be a sign of an underlying medical condition, such as cancer, diabetes, familial hypercholesterolemia or primary biliary cirrhosis. Diagnosis is made by viewing skin and if a biopsy is performed, it will reveal the xanthomas to be benign fatty deposits. The fatty cholesterol growths can be removed by a physician if they are bothersome, or if they are caused by having an increased blood lipid level, then treating the underlying medical condition may reduce xanthomas.
Cholesterol Embolus
A cholesterol or retinal embolus is a serious condition and is like having a stroke in the eye. It can be treated with cholesterol-lowering medications. According to the "Handbook of Ocular Disease Management," patients with cholesterol emboli have a 15 percent mortality rate the first year; by the third year it raises to 29 percent, and by the seventh year to 54 percent, with cardiac death being the main cause. It is important to treat the underlying medical reasons that are causing the cholesterol emboli to decrease the mortality rate, as no other direct treatment for this condition currently exists.
Removal
Cholesterol spots, or xanthomas, can be removed by a physician by burning them off, laser ablation and by surgical excision. Once removed, they have a high chance of recurrence. Cholesterol emboli cannot be removed as they are located in the back of the eye and only visible with special equipment. The only way to decrease these is to correct the underlying medical condition.